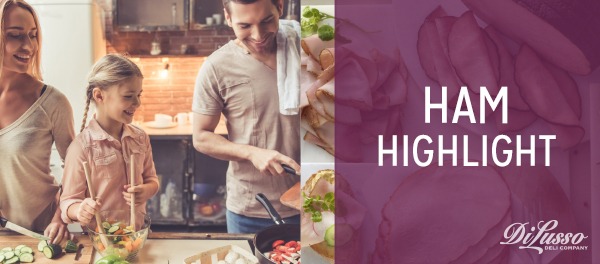 Deli ham is so much more than cold cut sandwiches. It's a versatile protein that adds a little something extra to a number of different dishes that you can serve during just about any mealtime (it's not all about lunch). To prove it's true, we have a proposition for you: use deli ham in one meal every day for a week and see if you and your family get bored.
We've already done most of the work for you. Below, we outline seven recipes (one for each day of the week) and walk through how each could fit into your schedule. Of course, these are just guidelines. Feel free to move recipes around so they're more in sync with your family's activities.
Give it a go. Then let us know what you think. What recipes would you add? How did you tweak our schedule? Did your family even notice you added ham to the menu?
Monday: Ham & Swiss Breakfast Sandwich
Take advantage of the momentum you built up over the weekend. Start the week out on the right foot with a fast and filling breakfast sandwich. Just 15 minutes and you're ready to chow down.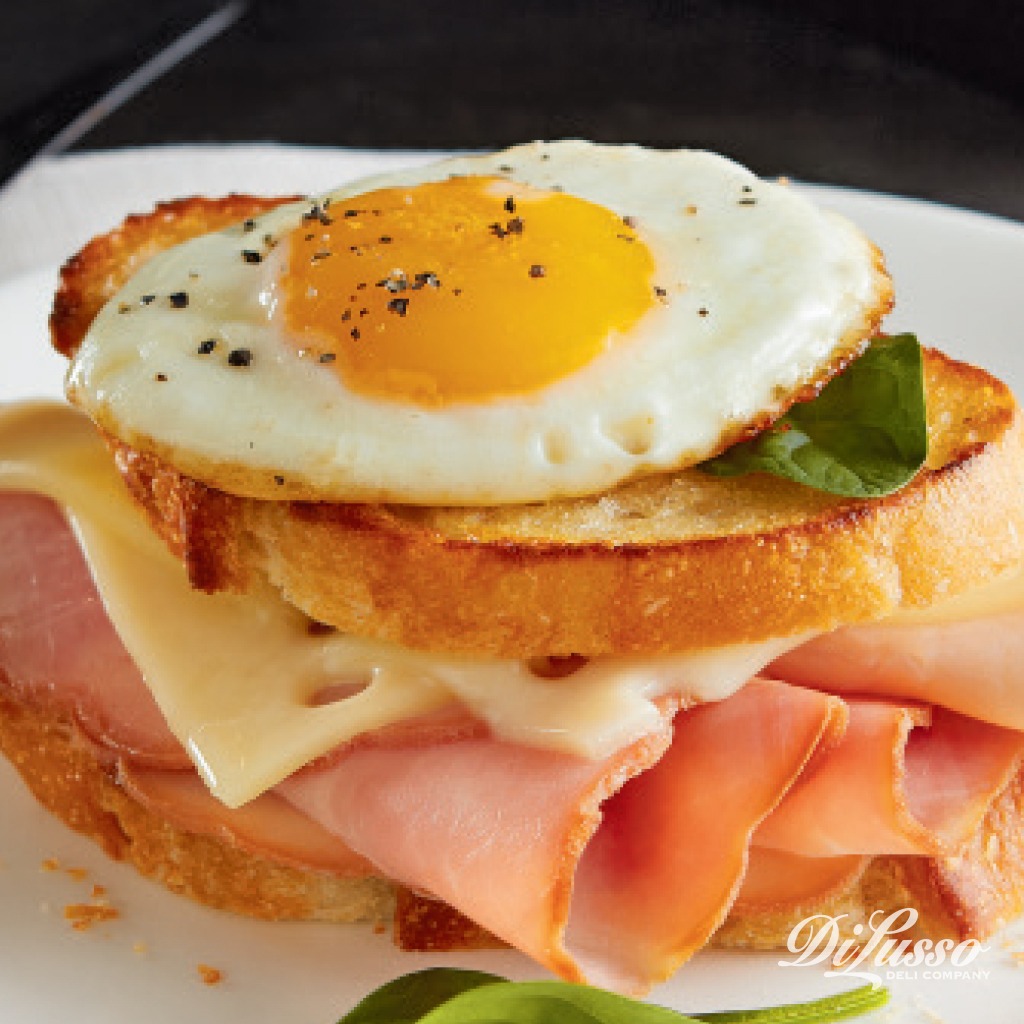 If it's a breakfast on the go kind of day, just put the egg (fried or scrambled work well) between the sourdough slices and wrap in foil. Or replace the sourdough slices with tortillas. This way they're compact enough to munch on during your work commute or feed the kids while you shuttle them to early morning practices.
Tuesday: Chicken Cordon Bleu Rolls
You survived Monday, congratulations! That's no easy feat, so give yourself a pat on the back and get ready to end your Tuesday on a delicious note.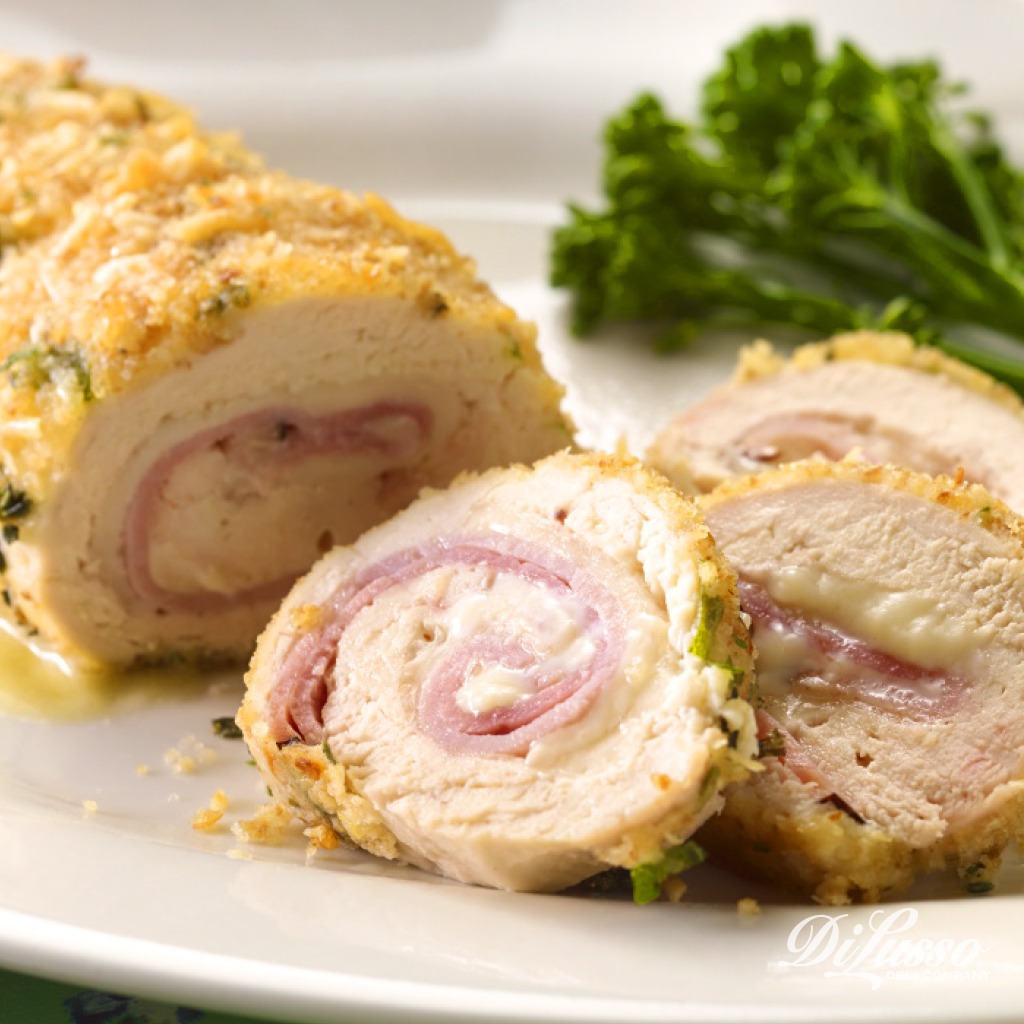 These might sound complicated, but they really aren't. After just 15 minutes of prep, you'll be ready to pop them in the oven so you can get on with the rest of your evening. These reheat well, so refrigerate your leftovers. Then you can check lunch off your list one day this week. For other recipes that make great leftovers, check out our blog here.
Wednesday: Ranch Club Wrap
It's easy to put lunch on the backburner, especially as the week progresses and schedules get even more complicated — more practices, more meetings, more homework. That's why we included this simple yet savory wrap.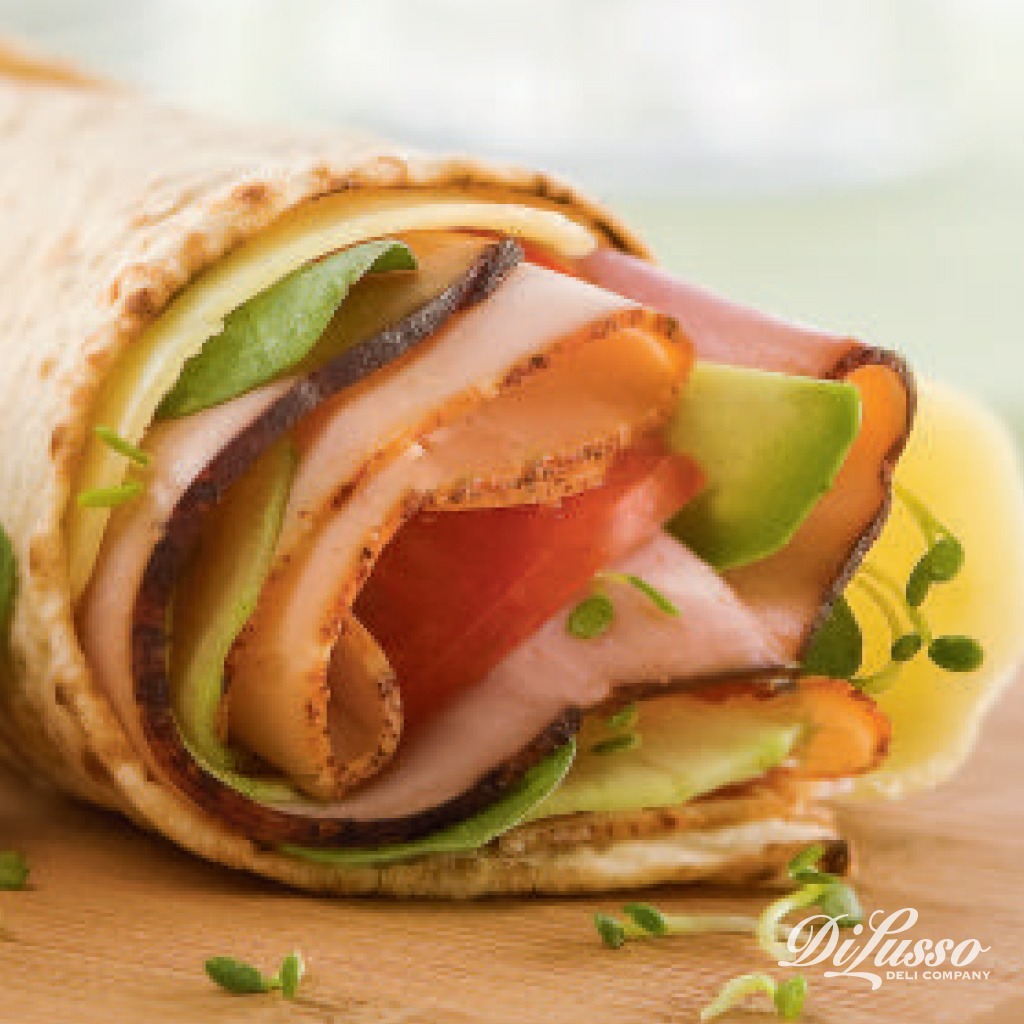 You can easily slide them into lunchboxes, eat in the car while you run a few errands or leave a couple in the fridge as a handy after-school snack. This is an easy one to personalize, too. Just adjust ingredients based on everyone's preferences.
Thursday: Spicy Shakshuka
You're over halfway done with the week! And chances are, you'd like to spend time doing something other than cleaning up after dinner. So it's time to keep things simple. One-pan simple.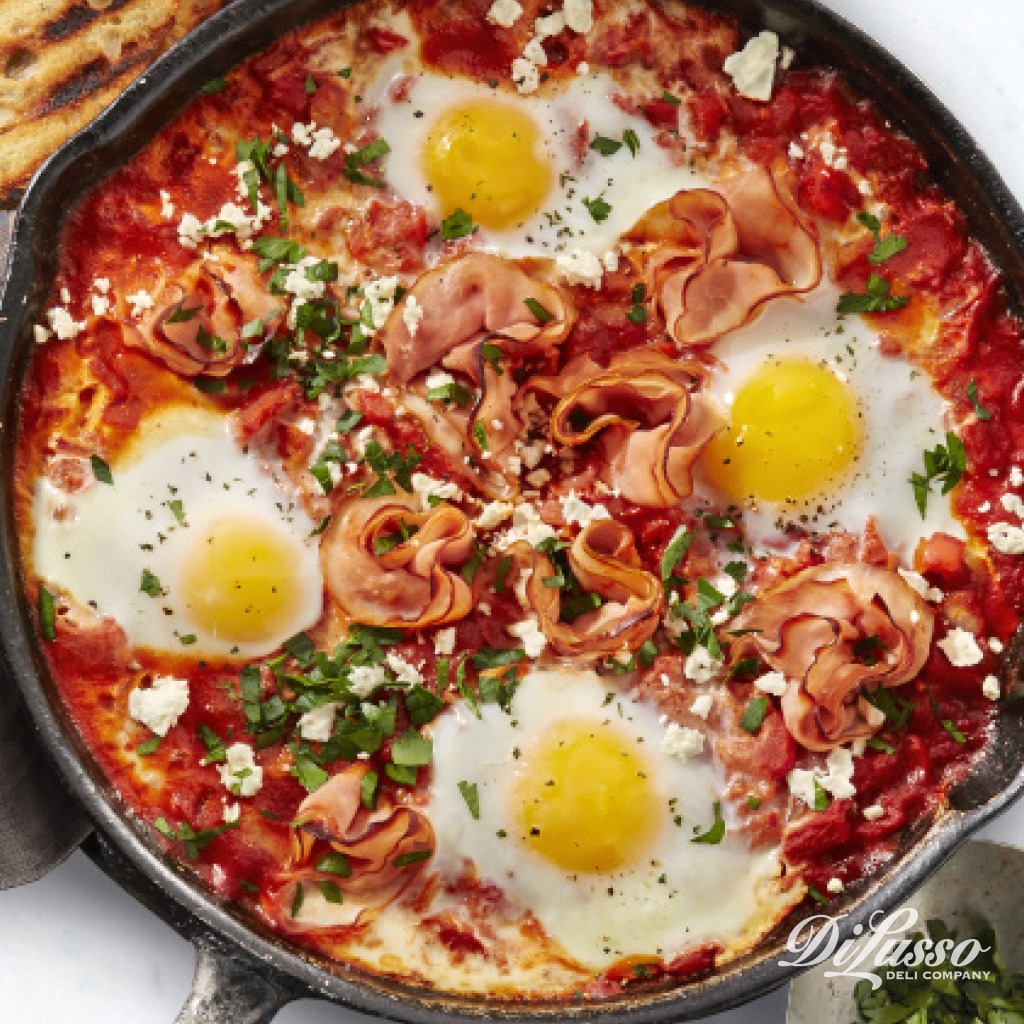 You only need one pan, your measuring utensils and a cooking spoon to make this dish. Even better — you'll only spend 10 minutes prepping this dish. Your oven will do the rest. To adjust the spiciness, play around with the amount of harissa you include. Add more for more heat, add less for less heat.
Friday: Ham, Goat Cheese & Cranberry Pastries
At today's end, the weekend officially begins. That means it's time to celebrate! Whether you're going to a dinner party, having a few friends over for a casual happy hour at home or just want something a little fancier to snack on while the kids are catching up on their cartoons, you're going to need an appetizer.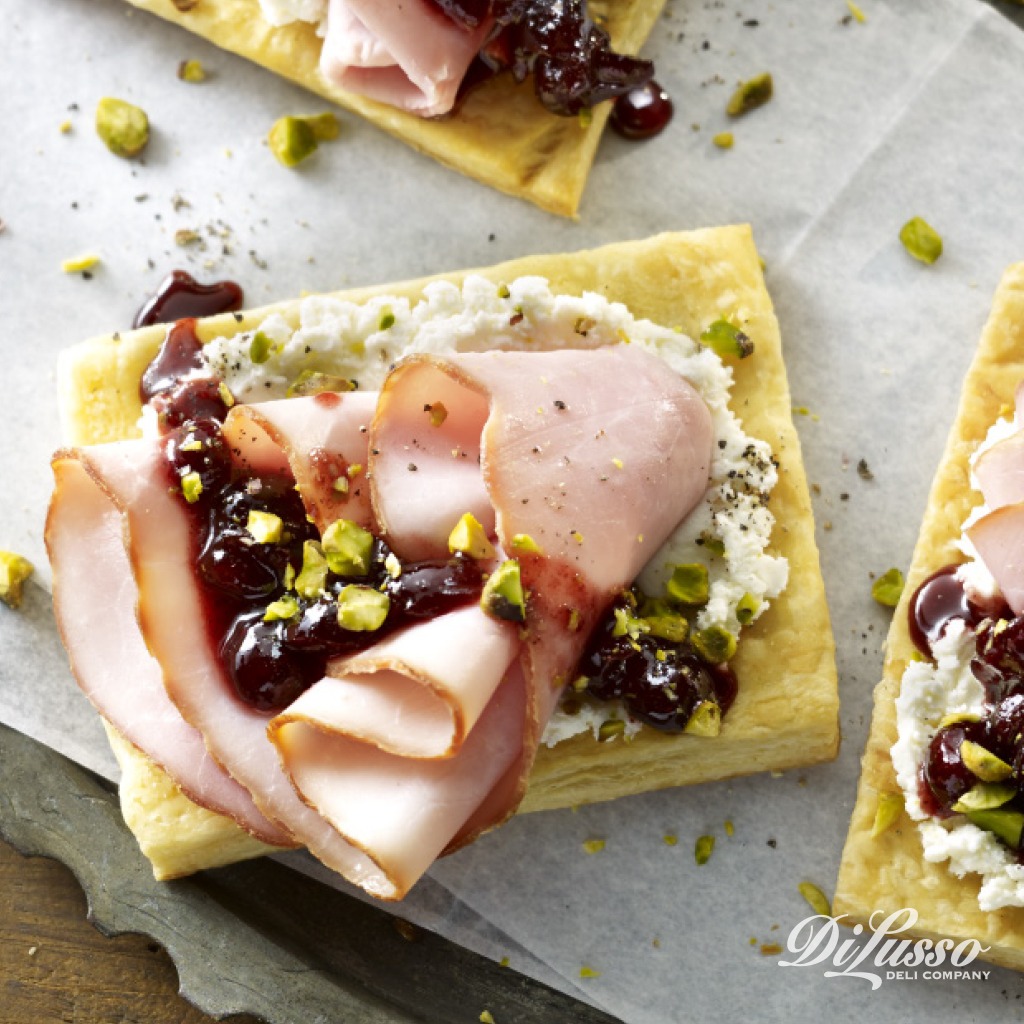 That's where these little pastries come into play. They're delightfully easy to make. All you have to do is stack a handful of ingredients on baked puff pastry squares. We made a special cranberry chutney to top these off, but you can also use a prepared chutney from the grocery store if you're looking to save some time.
Saturday: Savory Breakfast Cups
It seems like weekends are always filled to the brim with activities. Tournaments, sleepovers, quick road trips, housework and the list could go on and on and on. The key to keeping the whole family's energy up is setting a solid foundation with a grab-and-go breakfast.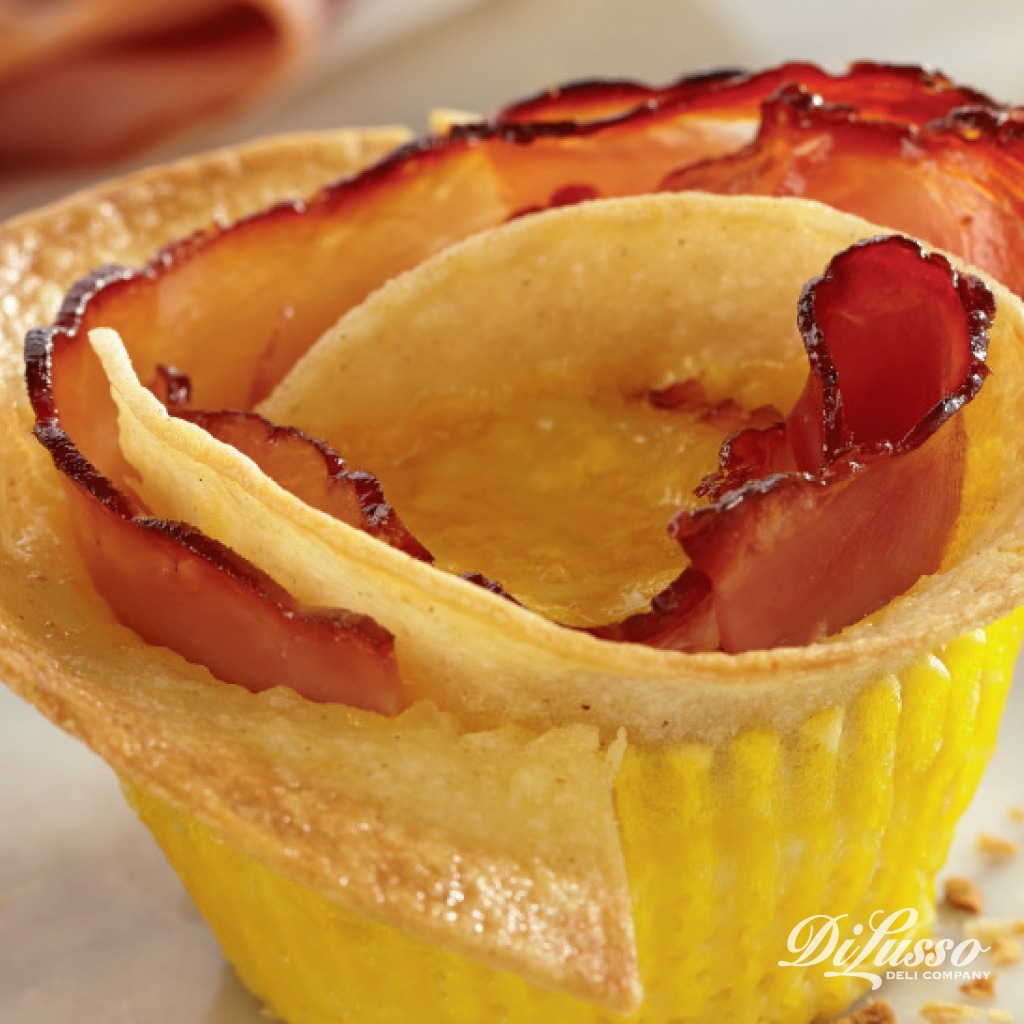 Layered with scrambled eggs, our Black Forest ham and smoked gouda, these cups are packed with protein. Their cup-like shape also makes them very portable. Just slide a few into a hard-sided plastic container and toss them in your car.
Sunday: Hearty Ham, Bean & Spinach Soup
The week is coming to an end. We're all trying to finish up the week while simultaneously preparing for the next. Putting the finishing touches on school projects that are due tomorrow. Getting groceries for tonight's dinner and the rest of the week.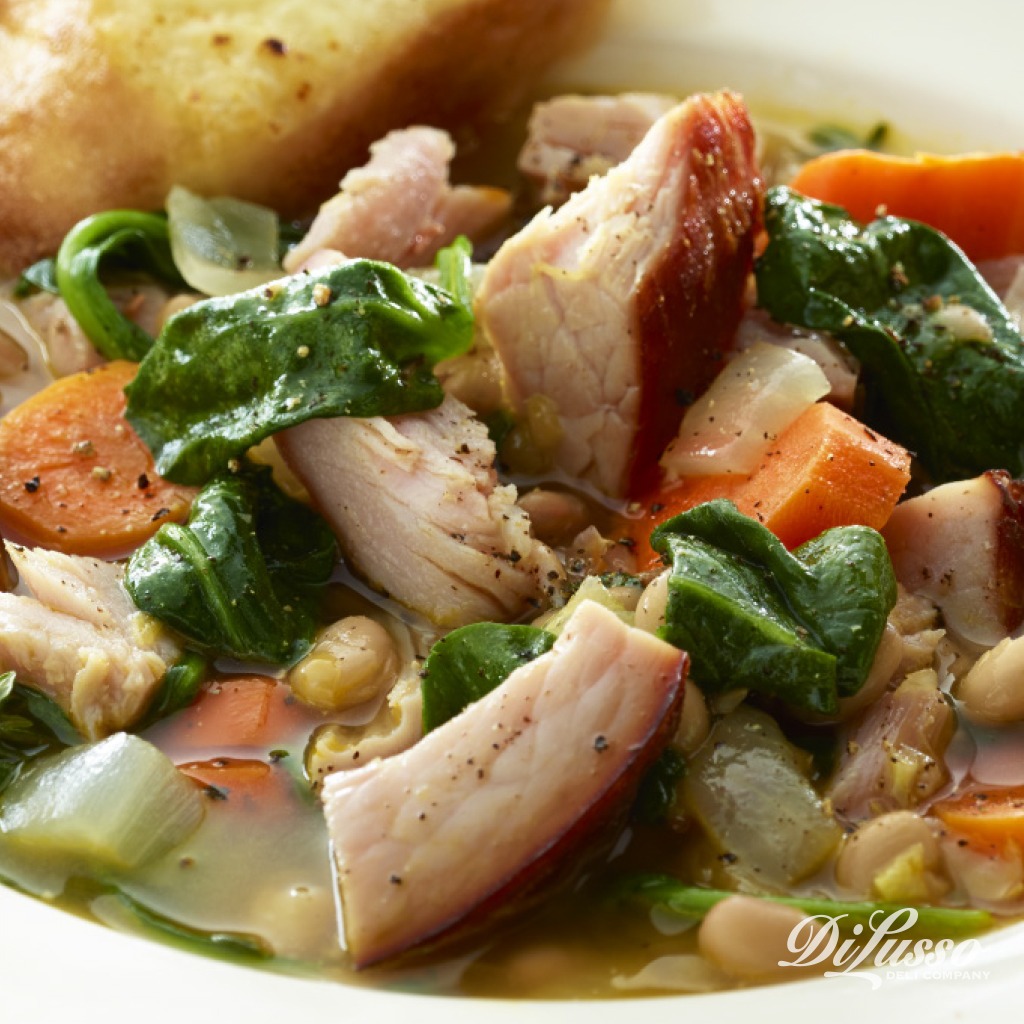 The good news is you can knock out two meals (at least) with one recipe. This soup only takes 10 minutes to prep and can be refrigerated or frozen, so you can enjoy it during the upcoming week too. If you want to go this route, we recommend making a double batch. And just like that, you freed some time up for yourself next week.
Grocery List (Feeds 4)
Deli Counter
1 ¼ pound DI LUSSO® Brown Sugar Ham, sliced at a medium thickness (at the deli counter)
¾ pound DI LUSSO® Black Forest Ham, sliced at a medium thickness (at the deli counter)
¼ pound DI LUSSO® Deli Deluxe Ham, sliced at a medium thickness (at the deli counter)
¼ pound DI LUSSO® Sun-Dried Tomato Turkey, sliced at a medium thickness (at the deli counter)
1 pound DI LUSSO® Smoked Ham, sliced thick (at the deli counter)
¾ pound DI LUSSO® Baby Swiss Cheese
¼ pound DI LUSSO® Smoked Gouda Cheese
¼ pound DI LUSSO® Havarti Cheese
¼ cup DI LUSSO® Cranberry Honey Mustard
Other Protein
2 dozen large eggs
4 boneless, skinless chicken breasts
Breads/Bakery
1 sourdough baguette
1 cup breadcrumbs
4 whole wheat tortillas
1 ciabatta loaf
6 (6-inch) flour tortillas
Dairy
5 tablespoons butter
⅓ cup feta cheese
4 ounces goat cheese
½ cup milk
Fresh Produce
2 tablespoons fresh basil
2 tablespoons fresh Italian parsley
2 teaspoons fresh thyme
1 large tomato
1 small cucumber
1 avocado
1 cup alfalfa sprouts
6 cups baby spinach
2 onions
1 sweet red pepper
1 ½ cup carrots
Baking
1 cup dried cranberries
⅓ cup brown sugar
Frozen
2 sheets puff pastry
2 cups broccolini
Canned Goods
1 (28 ounce) can diced tomatoes
2 cans white beans (Great Northern or navy)
¼ cup tomato paste
Dried Herbs & Seasonings
½ teaspoon garlic powder
3 garlic cloves
1 teaspoon ground sweet paprika
1 teaspoon ground cumin
Condiments
2 tablespoons harissa
½ cup ranch salad dressing
1 cup prepared hollandaise sauce
Beverages
½ cup white wine or sherry
½ cup orange juice
Other
1 ounce pistachio nuts
1 ½ quarts chicken broth
Pantry Staples
Olive oil
Salt
Pepper