Serves

4
Prep Time

10
Total Time

40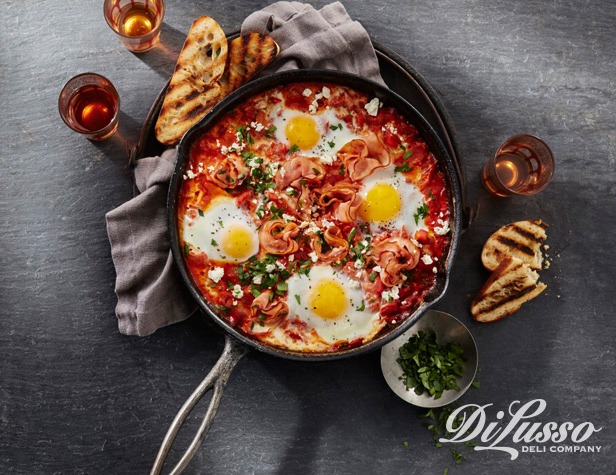 2 tablespoons olive oil
1 cup diced onion
1 cup diced sweet red pepper
2 cloves garlic, minced
1 to 2 tablespoons harissa (North African chili paste)
1 teaspoon ground sweet paprika
1 teaspoon ground cumin
1/2 teaspoon salt
1/2 teaspoon freshly ground black pepper
1/4 cup tomato paste
1 (28 ounce) can diced tomatoes, not drained
6 to 8 slices DI LUSSO® brown sugar, honey roasted or smoked ham
6 to 8 large eggs
1/3 cup coarsely crumbled feta cheese
2 tablespoons chopped fresh Italian parsley
Grilled and buttered ciabatta or Turkish bread, to serve
Directions
In large (10 to 12-­‐inch) skillet, heat olive oil over medium heat. Add onion, red pepper and garlic. Cook 5 to 10 minutes or until softened, stirring occasionally.

Add harissa, paprika, cumin, salt & pepper. Cook 1 minute, stirring, until fragrant.

Stir in tomato paste and tomatoes. Cook, uncovered, about 10 minutes, stirring occasionally, until sauce thickens; remove from heat; cool slightly.

Pinch 6 to 8 individual slices of ham like a wonton so each slice frills out a little at the top. Place ham, opening side up, evenly spaced, into tomato sauce in skillet so tops of ham are sticking up out of sauce.

Make 6 to 8 indents in sauce between ham. Crack egg into each indent. Sprinkle eggs with salt & pepper. Bake in 375°F oven for 8 to 10 minutes or until egg whites are cooked but yolks are still soft.

Sprinkle with crumbled feta cheese and parsley. Serve with grilled, buttered slices of ciabatta or Turkish bread if desired.