Serves

12
Prep Time

20
Total Time

45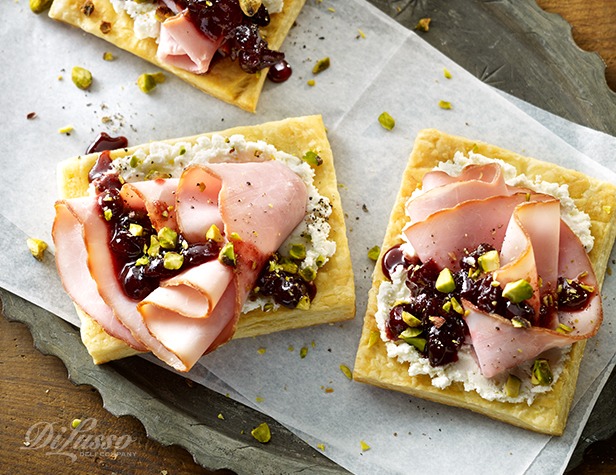 1 cup dried cranberries
1/2 cup orange juice
1/3 cup brown sugar
2 sheets, ready rolled, puffpastry (thawed)
1/4 cup DI LUSSO™ cranberry honey mustard
4 ounces goat cheese, softened
1 ounce pistachio nuts, shelled
1/2 pound sliced DI LUSSO® Ham
Directions
To make the cranberry chutney: Chop 1 cup of dried cranberries. Combine cranberries and 1/3 cup brown sugar in a saucepan. Add 1/2 cup of orange juice and 1/4 cup of DI LUSSO™ cranberry honey mustard. Cook mixture until orange juice is almost evaporated – medium heat about 5 to 10 mins, stirring. Let mixture cool, it will thicken on cooling.

Cut each of 2 sheets of ready-rolled, thawed puff pastry into 12 rectangles/squares. Place on 1 or 2 greased baking sheets in a single layer. Grease the underside of another baking sheet and place over pastry squares. Bake in 375°F oven for 20 to 25 minutes or until pastry is golden. Remove pastry to wire rack to cool.

Carefully spread each piece of pastry with softened goat cheese.

Top with folded slices of DI LUSSO® ham. Add a dollop of cranberry mixture and sprinkle with shelled and coarsely chopped pistachio nuts.