Serves

5
Prep Time

15
Total Time

45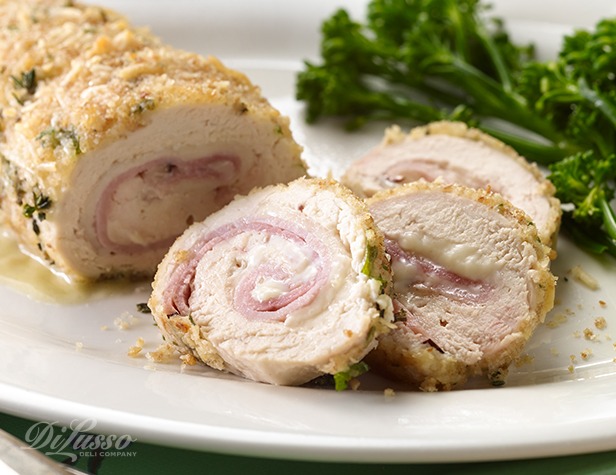 5 boneless, skinless chicken breasts
5 slices DI LUSSO® Baby Swiss Cheese
5 slices DI LUSSO® Black Forest Ham
1 cup dried seasoned breadcrumbs with Romano cheese
1/2 teaspoon garlic powder
Salt and pepper, to taste
3 tablespoons butter, melted
2 eggs, beaten
2 tablespoons milk
Extra virgin olive oil
Broccolini
Hollandaise sauce
Directions
Heat oven to 350°F. Place chicken breasts between sheets of plastic wrap and pound flat. Place 1 slice DI LUSSO® Baby Swiss Cheese and 1 slice DI LUSSO® Black Forest Ham on each flattened chicken breast. Roll up each chicken breast from short end and tuck in ends. Secure with toothpick, if needed.

In bowl, mix breadcrumbs and flour with garlic powder, salt, pepper and melted butter. In another bowl, beat eggs with milk.

Lightly dust each rolled chicken breast with flour. Dip into egg mixture and then coat in breadcrumb mixture. Coat baking pan with olive oil and top with chicken breast rolls. Bake 25 to 30 minutes or until browned and cooked through. Remove toothpicks. Serve Chicken Cordon Bleu Rolls whole or cut into slices with a side of broccolini and Hollandaise sauce for drizzling.