Serves

4
Prep Time

10
Total Time

40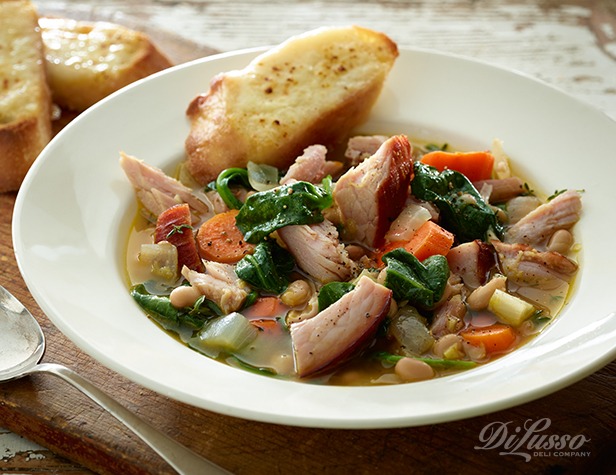 5 handfuls baby spinach
1 oinion, chopped
1 1/2 cup carrots
1 pound DI LUSSO® smoked ham, sliced thick
1/4 pound DI LUSSO® havarti cheese, sliced in half
2 cans white beans (great northern or navy)
1 tablespoon garlic, minced
1/2 cup white wine or dry sherry
1 1/2 quarts chicken broth
2 teaspoons fresh thyme, chopped
salt and pepper, pinch
1 baguette, sliced
butter
Directions
Saute a chopped onion, 1 1/2 cups of chopped carrot and 1 tablespoon of minced garlic in a pot. Add about 1/2 cup white wine or dry sherry. Add about 1 1/2 quarts of chicken broth and 2 teaspoons chopped fresh thyme with a good pinch of salt and pepper.

Stir in 2 to 3 cups of coarsely chopped (or torn for a more rustic look) DI LUSSO® smoked ham slices, 2 cans of white beans (great northern or navy) that have been rinsed and drained, and heat for 30 minutes. Stir in 4 or 5 good handfuls of baby spinach leaves for the last 5-10 minutes.

Top individual servings of the soup with baguette slices that have been toasted, buttered then topped with lightly browned (broiled) melted, oozing DI LUSSO® havarti cheese slices and thyme sprigs.