Serves

6
Prep Time

15
Total Time

15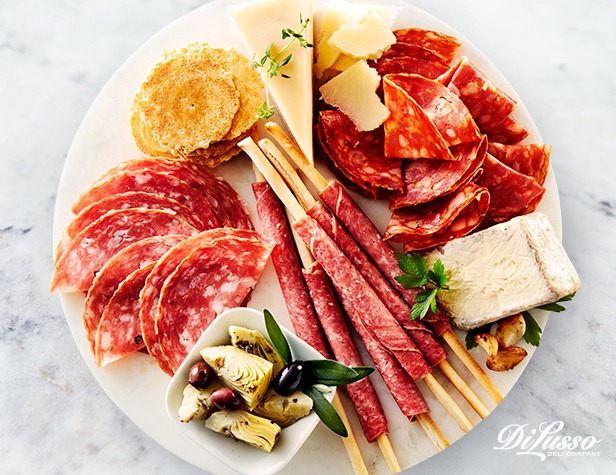 ¼ pound DI LUSSO® Genoa Salami, sliced thin (at the deli counter)
1 (3 ounce) package grissini breadsticks
¼ cup DI LUSSO® Pitted Kalamata Olives
¼ cup artichoke hearts, quartered
¼ pound DI LUSSO® Sopressata Salami, sliced thin (at the deli counter)
¼ pound DI LUSSO® Hot Sopressata Salami, sliced thin (at the deli counter)
¼ pound parmesan wedge
¼ pound brie
1 (3.5 ounce) package wafer crackers
Fresh thyme and parsley, for garnish
Directions
Wrap Genoa salami around grissini breadsticks. Arrange on platter.

Gently mix artichoke hearts and olives. Spoon into small serving bowl and place on platter.

Fold the sopressata salami in half, and the hot sopressata salami in quarters. Arrange salamis and remaining ingredients on the platter. Garnish with fresh thyme and parsley.