Serves

4
Prep Time

30
Total Time

45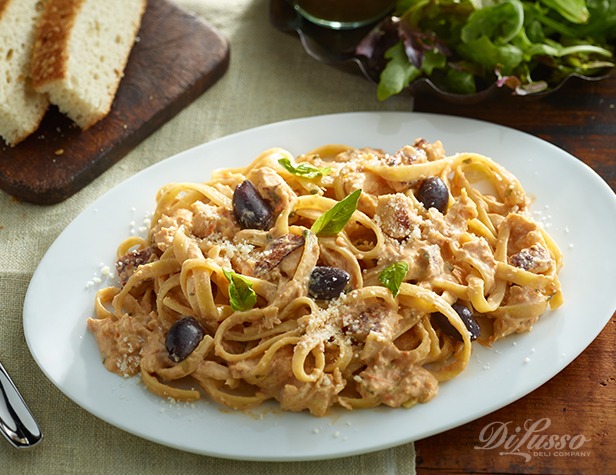 1 tablespoon of olive oil
4 minced garlic cloves
1 cup onion, chopped
1 cup of drained sundried tomatoes in oil
1/2 cup dry white wine
1 or 2 chopped habanero peppers
1 package kalamata olives
2 pounds DI LUSSO® Oven Roasted Chicken, chopped
2 1/2 cups of heavy cream
1 package fettuccine
2/3 cup Parmesan, finely grated
1/3 cup basil leaves
Directions
Heat 1 tablespoon of olive oil in a pan and add a cup of chopped onion, 4 minced garlic cloves and 1 or 2 chopped habanero peppers. Cook until onion is softened.

Add 1 cup of drained sundried tomatoes in oil and 1/2 cup dry white wine.

Add 2 1/2 cups of heavy cream and bring to a simmer. Place creamy sauce, 2/3 cup finely grated parmesan cheese and 1/3 cup of basil leaves in a blender. Blend until almost smooth. Return to same frying pan.

Add about 3 cups of chopped (or pulled apart) oven roasted chicken to sauce. Drain kalamata olives and add to sauces. Heat and stir until hot. Combine creamy chicken sauce with hot al dente, fettuccine.

Top with more freshly grated Parmesan cheese and fresh basil leaves.