Serves

20
Prep Time

15
Total Time

35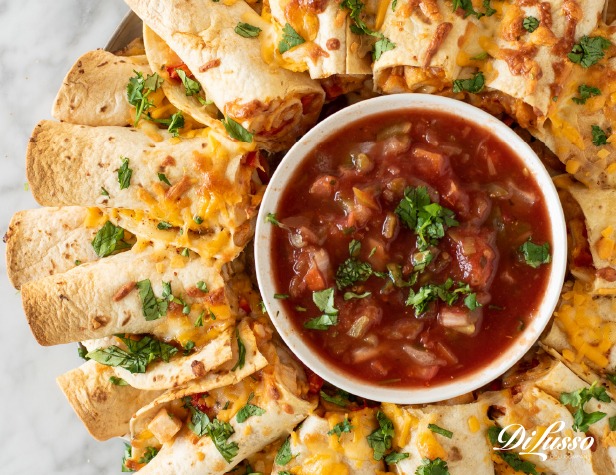 3 cups DI LUSSO® Smoked Buffalo Style Chicken Breast, sliced ½ inch thick (at the deli counter), cubed
3 cups DI LUSSO® Pepper Jack Cheese, shredded
3 cups DI LUSSO® Wisconsin Sharp Cheddar Cheese, shredded
1 red bell pepper, chopped
1 onion, chopped
1 jalapeño, chopped
1 cup taco sauce
20 taco-size flour tortillas
Garnish with Cilantro
Directions
Preheat oven to 375˚F.

In a bowl, combine the chicken, red bell pepper, onion, jalapeño, and taco sauce. Mix and set aside.

Evenly spread about 3 tablespoons of both cheeses and the chicken mixture in one of the tortillas and roll together (roll should look similar to taquito). Repeat this process until all tortillas are used. Place the filled tortillas on a baking sheet and bake for 5 minutes to harden the shell. Take out of oven and cut the tortillas in half with a scissors for a clean cut.

Place a wide mouth jar or glass in the center of a parchment paper-lined baking sheet.

Create a ring around the jar. There should be about 13 rolls in the first layer. Sprinkle both cheeses over the first layer of cones.

Start the second layer of cones by placing one roll on top and in between 2 rolls in the first layer. Sprinkle both cheeses over the second layer once complete. Continue this process with the rest of the rolls to create three full layers. (Fill any empty space with leftover rolls.)

Sprinkle the rest of the cheese on top of the blooming quesadilla. Remove jar from center of ring. Place in the oven and bake until the cheese is melted, and the edges of the tortillas are crispy; 15 to 20 minutes.

Remove the pan from the oven and transfer the blooming quesadilla to a serving plate. Place your dip of choice in a small bowl inside the ring. Top the ring with desired garnishes and serve immediately.