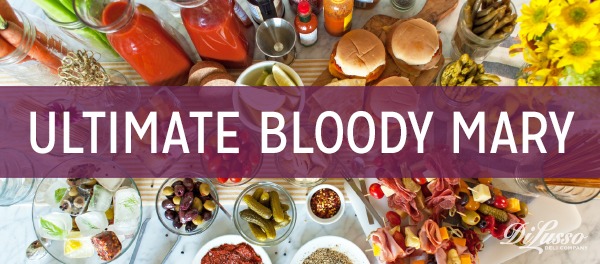 Nothing quite compares to eating brunch surrounded by family, friends and ice-cold Bloody Marys (crowded with outrageous garnishes, of course). Or toasting the bride-to-be with a grin on your face and a Bloody Mary in your hand. And during tailgating season, they're practically a requirement for a successful game day celebration.
Regardless of who you plan to entertain with your Bloody Mary bar, setup is very similar. All you have to do is lay the groundwork and let your guests be their own bartenders so they can customize to their heart's content. We'll guide you through the process step by step with some of our best tips and recipes sprinkled in along the way.
Table Talk
We like to build our Bloody Mary bars using one long table to show off the goods buffet-style and create a delicious assembly line for guests. It'll also help you stay organized and keep guests moving down the line.
Lay a table runner down the middle to add a pop of texture and color. Or arrange cloth napkins at different angles for a layered look. Don't be afraid to mix and match patterns.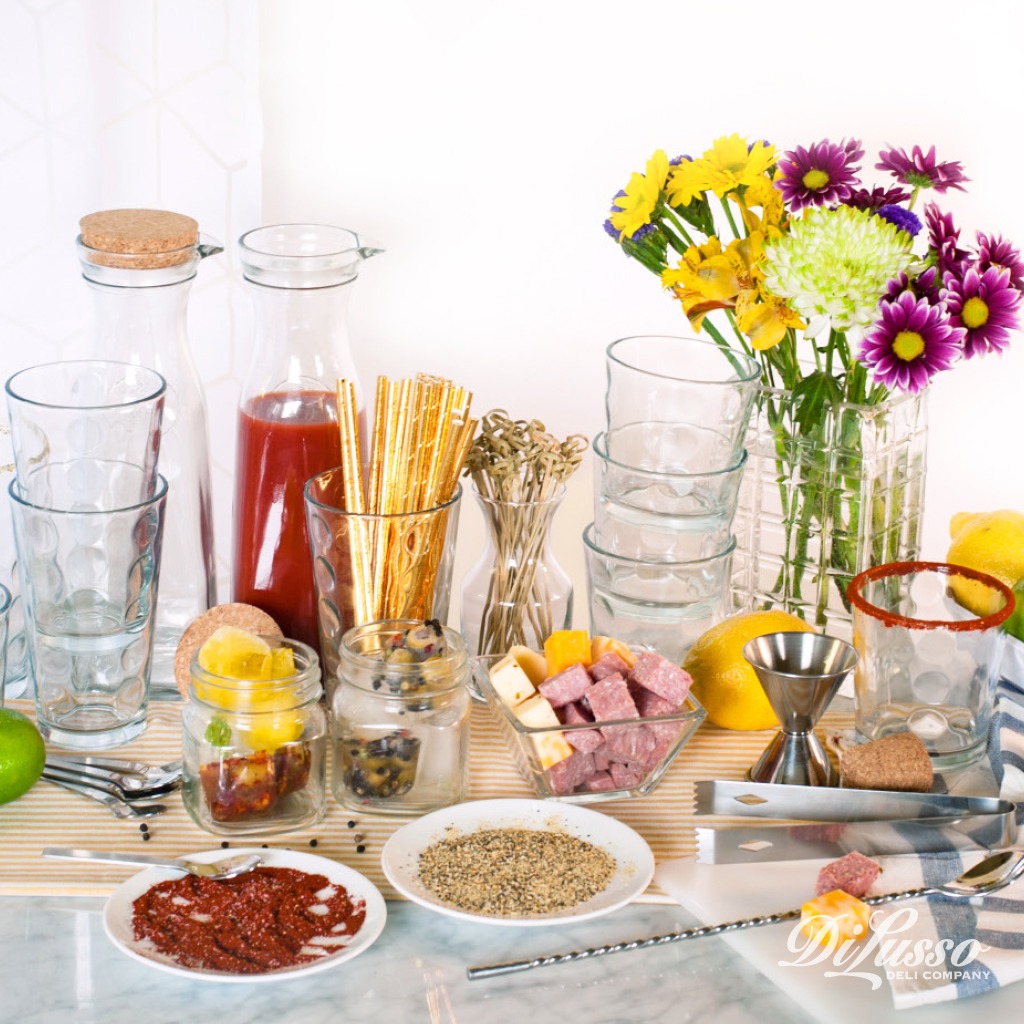 To make the most efficient use of your space, elevate a few items using tiered stands. Or display condiments in stemware (like martini glasses) to give your display some height. Tall flower vases make great holders for lanky ingredients like celery sticks and pre-made skewers.
Glasses Galore
Starting at the left end of the table, stack and arrange your cups. Pint glasses are a popular choice. Highball glasses and mason jars also work well. Bottom line: you're going to want something with a wide mouth so there's room to add garnishes.
Put a Rim On It
Place a shallow dish of lemon or lime juice next to your glasses along with a few dishes of seasonings so guests can add flavor to the rims of their glasses. Celery salt is a classic, but these are some other fun options you can try: smoked paprika, cayenne pepper, chili powder, garlic salt and wasabi powder. Go for white dishes; they'll really make the deep hues of the seasonings pop.
Ice, Ice Baby
Regular ice is nice, but infused ice is even nicer because it won't water down your drink. Just pop some of your favorite garnishes (like fresh herbs, jalapeños, lemon slices and red pepper flakes) and juices (like tomato or pickle) into ice cube trays. Then freeze and you're good to go!
Place ice in a large bowl or ice bucket and make sure to include a serving spoon or tongs. If you're expecting a lot of guests, keep an extra bag or tray of ice in the freezer for easy refilling.
Don't Forget the Straws
They're easy to overlook, but very important because they enable guests to stir their creations and get a good, well-rounded sip before moving on. This will help prevent people from bouncing back and forth in line.
All About That Base
Tomato juice lays the foundation for any good Bloody Mary, but other juices, spirits, sauces and seasonings will help guests build flavorful masterpieces.
Whip up a batch or two (depending on the size of your crowd) of tomato juice mix, pour into a pitcher and set alongside your spirit (or spirits) of choice. Vodka is a classic. If you're looking for a new twist, try including an infused vodka or add tequila to the lineup. We like to keep the tomato juice mix and spirits separate so guests can add as much or as little alcohol as they like.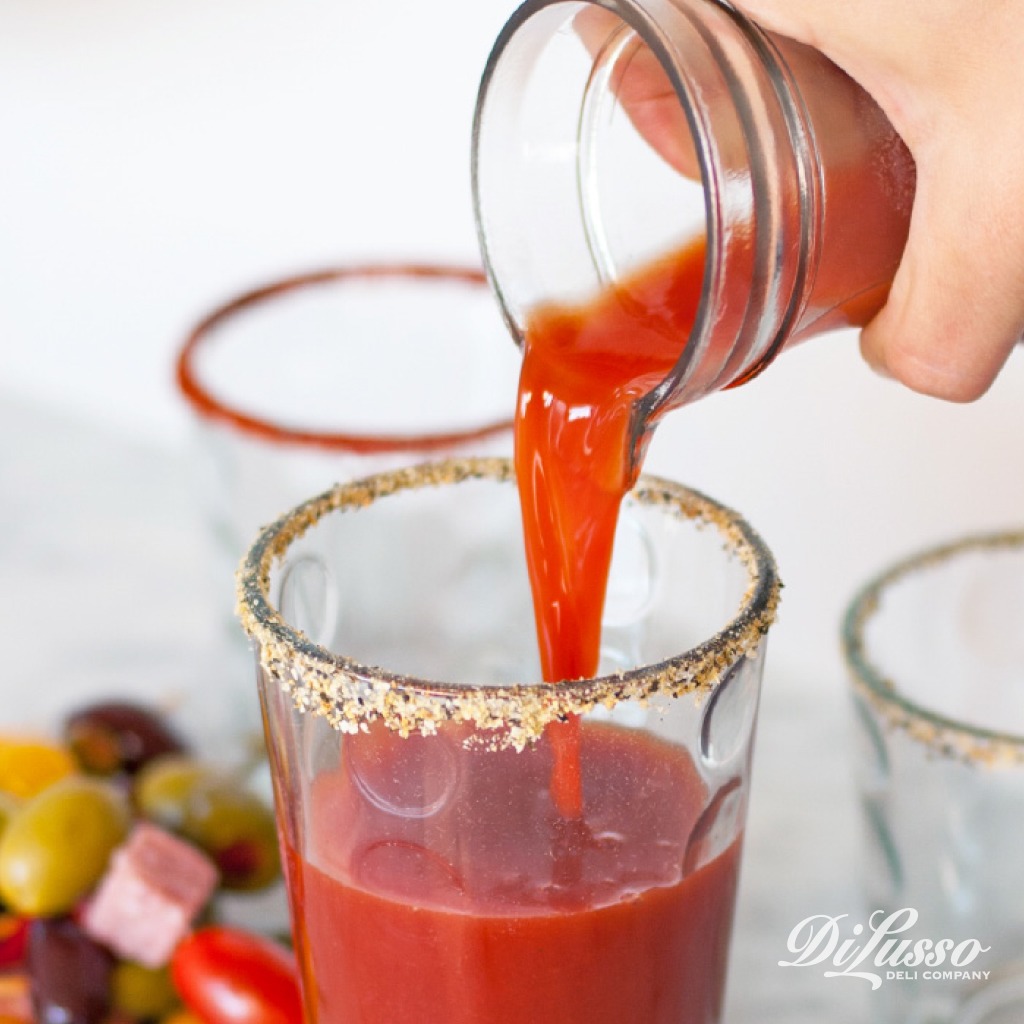 Then lay out other add-ons like pickle juice, hot sauces and horseradish so guests have the tools to build something that's perfect for their palate. Worcestershire sauce and olive juice (drained from the jar of olives you'll inevitably use for garnishes) are savory favorites. For those who favor sweet over savory, include some barbeque sauce and ground ginger.
Garnish Guide
Now we're getting to our favorite part. This is where guests can really start to have fun by decking out their drinks with everything from simple cheese cubes and olives to melty sliders and mini grilled cheese triangles.
Odds & Ends
Pickled veggies (okra, green beans, asparagus), pepperoncini peppers, roasted red pepper strips, pickles, olives (green and kalamata without pits), chopped jalapeños – whatever little garnishes you think your guests (and you!) will enjoy popping into their concoctions.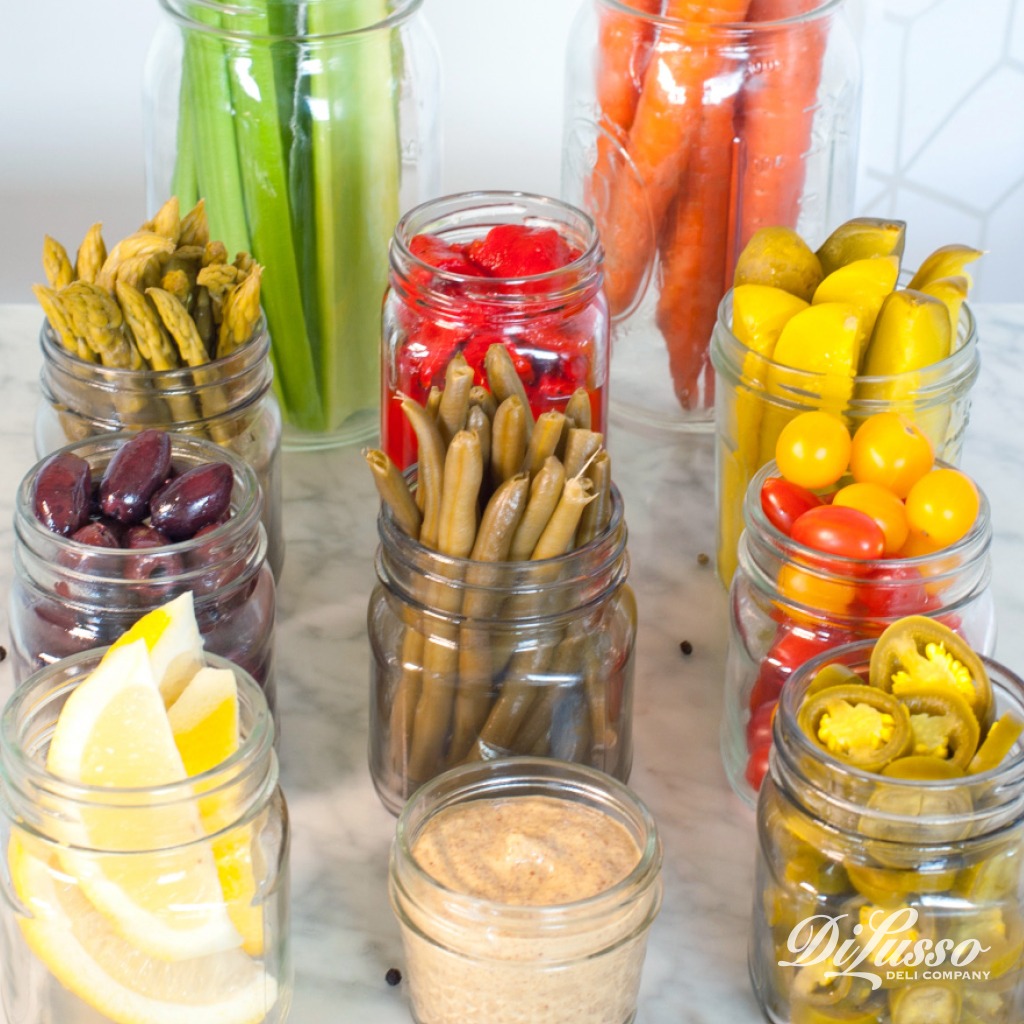 Take these out of their packaging and place in small bowls with serving utensils. Your table will be packed with color thanks to the rainbow of ingredients you've assembled, so go for white or glass bowls.
Skewer It
To keep the line moving, make some skewers ahead of time. These salami-stacked skewers and tortellini-layered kabobs will pair nicely with all of the other savory and spicy flavors. You can also use your odds and ends ingredients to create your own skewers.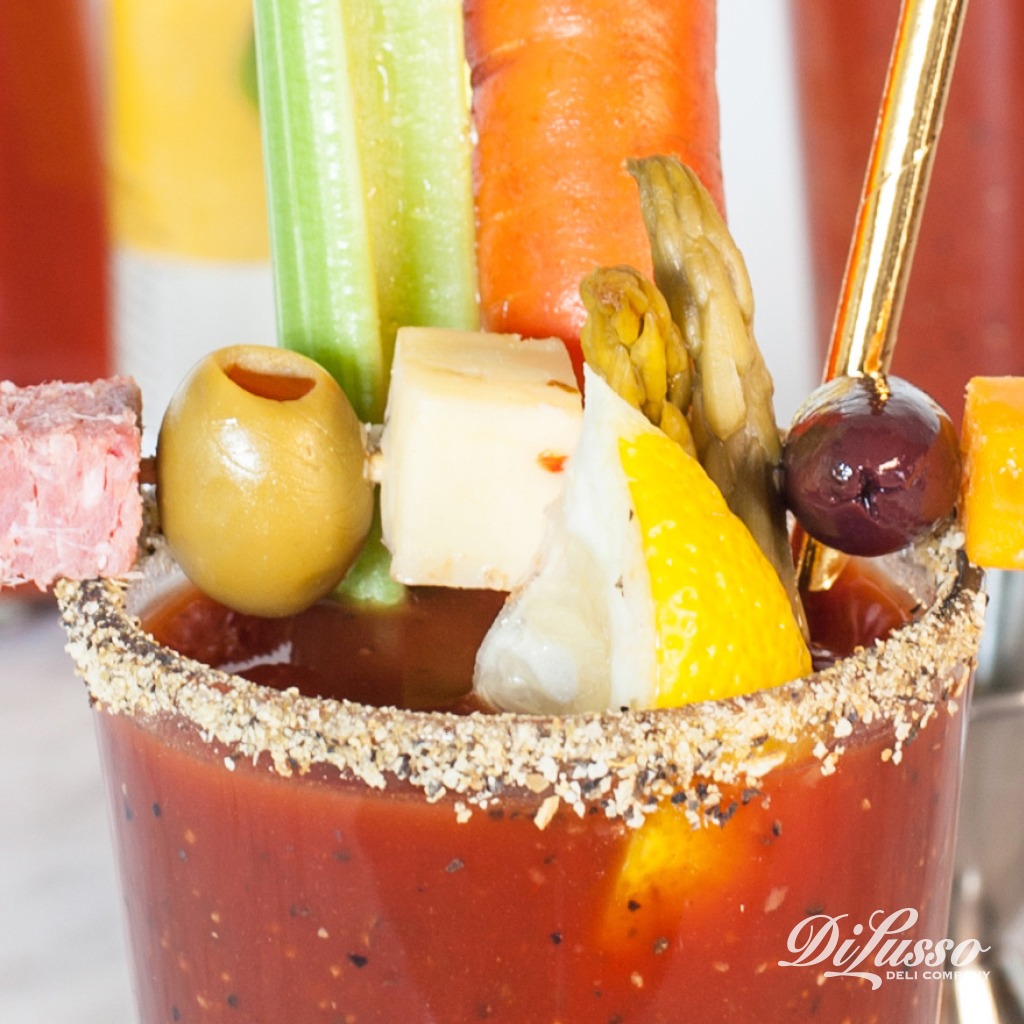 Go Big
If you really want to impress guests, make some over-the-top skewers that prove sometimes bigger is better. Put these Pepperoni Sliders on skewers with cubes of our cheddar and mozzarella cheese.
Slide small slices of these Chicken & Habanero Jack Quesadillas onto skewers with a couple roasted red pepper strips. Or cut grilled cheese into small triangles and place on skewers along with a few slices of our dry sausage.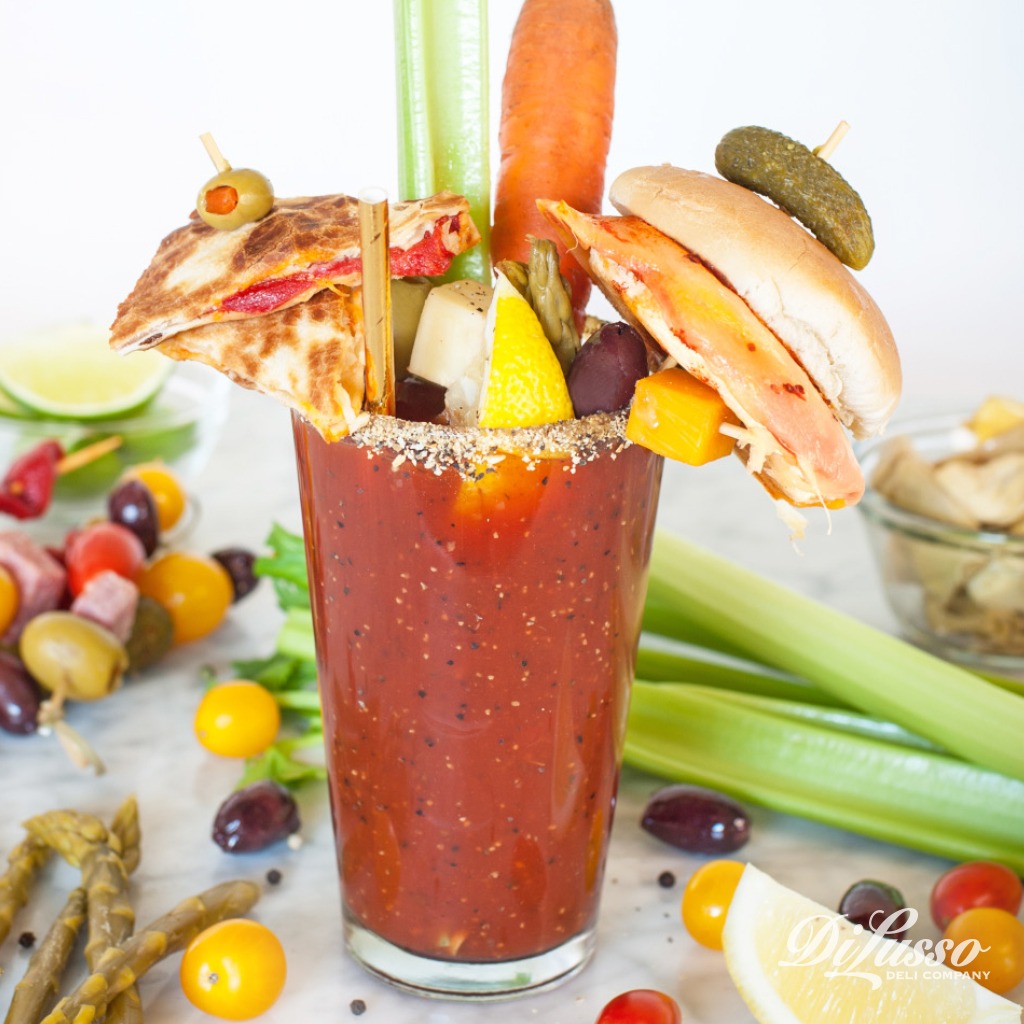 Start Sipping
Before your guests arrive, make one for yourself! This way you can do a taste test and evaluate your assembly line. Are all ingredients within arm's reach? Does everything that needs a serving utensil, have a serving utensil? Do your skewers need another layer of ingredients? Adjust your layout as needed.
All that's left to do is let the fun begin!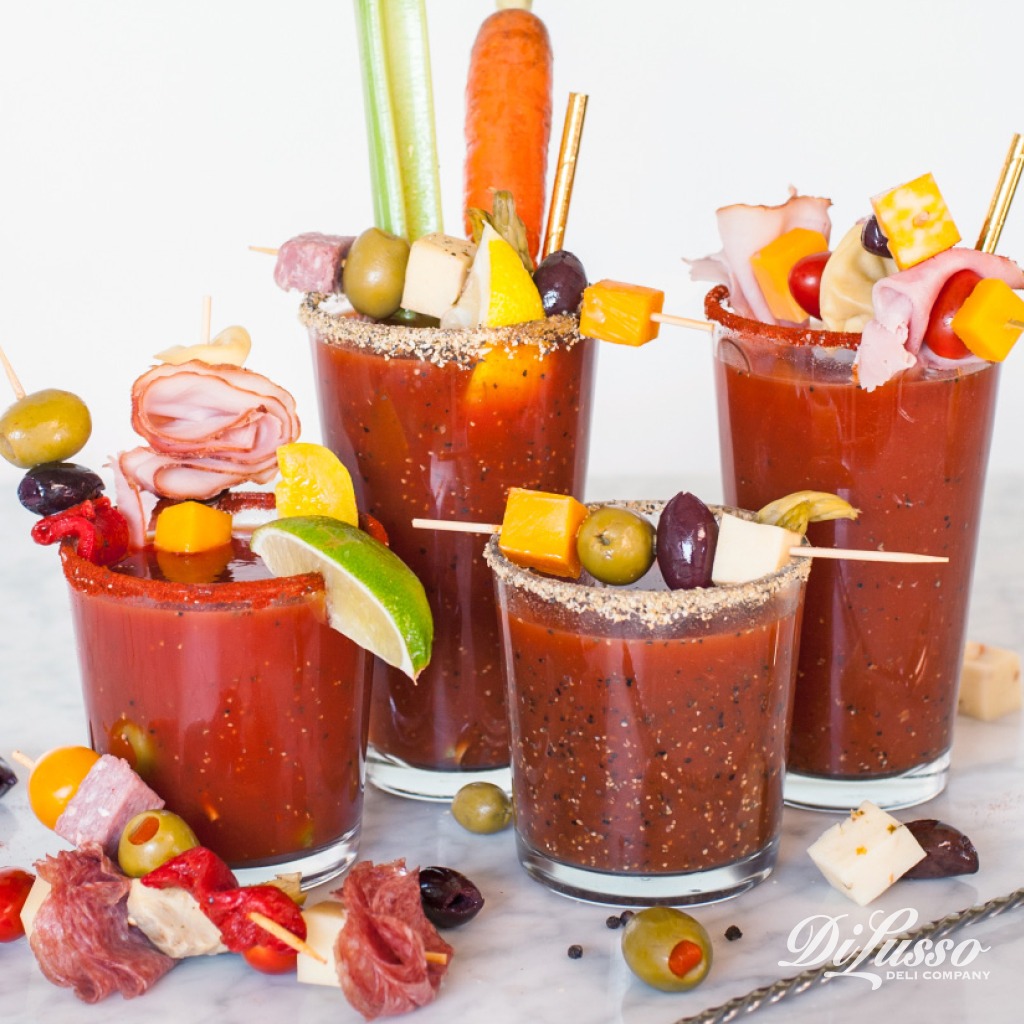 Bloody Mary Bar Ingredients
Feel free to use our bar for inspiration. We've listed the ingredients below so you can use that as a starting point. Or use the tips above to build your own one-of-a-kind creation. Either way, happy building!
Garnishes
DI LUSSO® Hard Salami
DI LUSSO® Pepper Jack Cheese
DI LUSSO® Wisconsin Sharp Cheddar Cheese
DI LUSSO® Colby Jack Cheese
Roasted red peppers
Pitted kalamata olives
Green olives
Celery
Carrots
Pickled
Asparagus
Green Beans
Dill Pickles
Cherry Tomatoes
Lemons
Limes
Seasonings & Sauces
DI LUSSO™ Deli Style Mustard
Red Pepper Flakes
Paprika
Black Pepper
Lemon Salt
Over the Top Skewers
Pepperoni Sliders
Chicken and Habanero Jack Quesadillas
Antipasto Skewers
Antipasto Kabobs