Serves

8
Prep Time

10
Total Time

15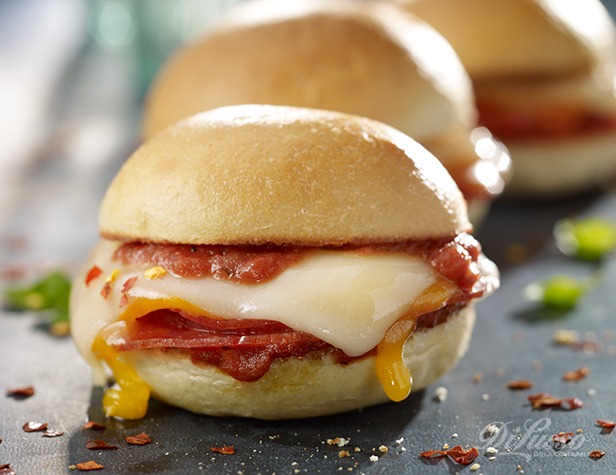 2 8 slider bun packages (16 total)
1 14 ounce pizza sauce or marinara sauce
1/2 pound DI LUSSO® Mozzarella (should be 8 slices, then cut in half)
1/2 pound DI LUSSO® Cheddar cheese (should be 8 slices, then cut in half)
1/2 pound DI LUSSO® Pepperoni slices (make sure it equals16 slices)
1 package fresh basil leaves
1 teaspoon pepper flakes
Directions
Toast slider buns and spread bottom halves with pizza sauce.

Add 2 slices of DI LUSSO® pepperoni, should fit perfect on slider buns, then add slices of DI LUSSO® mozzarella and DI LUSSO® Cheddar cheese. Sprinkle a few pepper flakes if desire. Place these onto a baking sheet and place under a hot broiler for 30 to 60 seconds just until cheese is starting to melt. Top with more sauce, basil leaf bun halves.

Place a basil leaf on each bun top and place a small skewer through basil leaf and into sliders to secure.