Serves

4
Prep Time

15
Total Time

20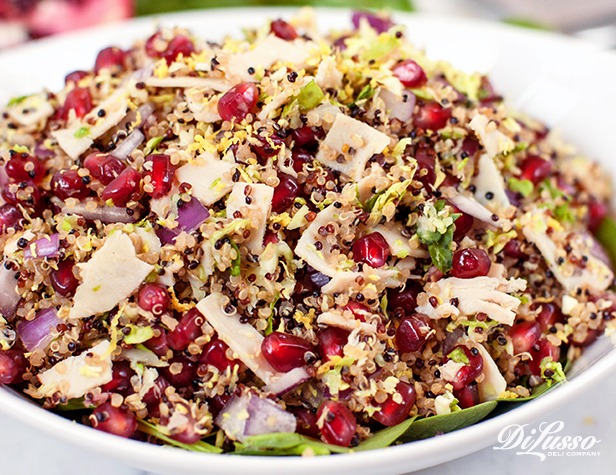 1 cup quinoa
2 cups chicken stock
¼ pound DI LUSSO® Oven Roasted Chicken, cut into strips
1 cup raw Brussel sprouts, shredded
1 cup pomegranate arils
1/2 cup red onions, chopped
4 cups spinach
Dressing
2 tablespoons olive oil
3 tablespoons lemon juice
2 tablespoons scallions, chopped
2 teaspoons sugar
Pepper, to taste
Directions
Bring quinoa and chicken stock to a boil in a medium saucepan. Reduce heat to low, cover and simmer until most of the stock is absorbed, about 10-15 minutes.

Meanwhile, combine olive oil, lemon juice, scallions and sugar to make dressing. Add pepper to taste.

While quinoa is still warm, toss with chicken, shredded Brussel sprouts, pomegranate arils, red onions and dressing. Place quinoa mixture atop bed of spinach.