Serves

8
Prep Time

15
Total Time

35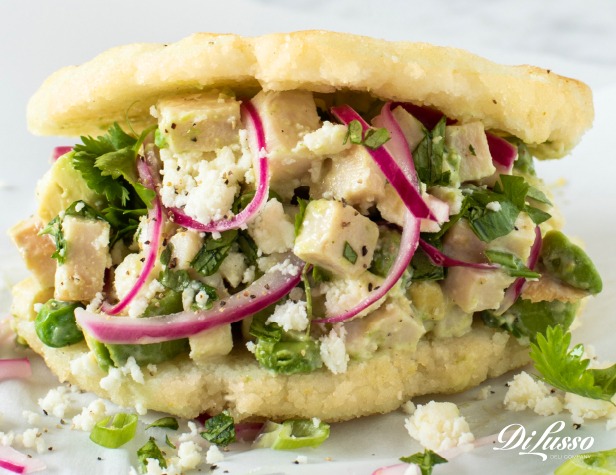 Arepa
2 cups white cornmeal
2 teaspons salt
2 ½ cups warm water
Corn or Canola Oil for pan frying
Filling
1 pound DI LUSSO® Mesquite Style Chicken Breast, sliced ½ inch thick (at the deli counter), cubed
½ cup mayonnaise
1 scallion, thinly sliced, green part only
2 avocados, chopped
Salt and pepper, for seasoning
½ cup cooked green peas (optional)
Garnish with red onion, cilantro and/or queso fresco
Directions
Start by preparing the filling. In a large bowl, combine the chicken, mayonnaise, scallions, avocado and peas; stir well and ensure all ingredients are combined. Add salt and pepper to taste. Cover filling mixture with saran wrap and place in the refrigerator while you prepare the arepas.

Put the cornmeal in a food processor and grind until fine. Put the cornmeal in a large bowl and stir in salt. In a saucepan heat the mixture over medium heat until it comes to a steady simmer. Let the batter rest about 15 minutes to thicken into a soft dough.

Remove the arepa mixture from the bowl and place on a clean countertop top. Using your hands, divide the dough evenly into 8 sections. Roll each section into a ball and flatten gently with the palm of your hand to create a disk, about 1 inch thick. (Tip: wet your hands when shaping dough balls.)

In a large heavy skillet, heat a thin layer of oil (about 1/4-inch-deep) over medium heat. Add the arepa disks and fry for about 6 minutes on each side; flipping once. When cooking is complete, remove the arepas from the oil and set on paper towels to drain and cool. The arepas should have a light golden-brown exterior. Once cool, cut the arepas in half.

Remove the filling mixture from the refrigerator. Take one arepa that has been cut in half and stuff it with the filling mixture using a spoon. Repeat with the rest of the arepas and enjoy!