Serves

2
Prep Time

10
Total Time

25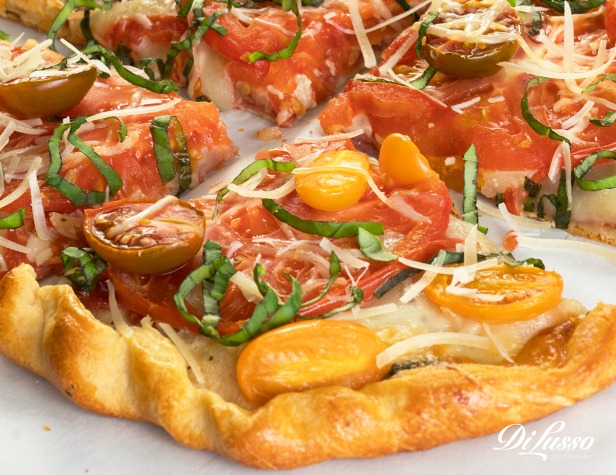 1 (8 ounce) crescent roll dough sheet
2 tablespoons DI LUSSO® Basil Aioli
¼ pound DI LUSSO® Hard Salami
¼ pound DI LUSSO® Mozzarella Cheese, thinly sliced
2-3 large tomatoes
1 (10.5 ounce) package cherry tomatoes
1 large egg, lightly beaten
1 teaspoon garlic powder
½ cup parmesan cheese, shredded
4-5 fresh basil leaves
Directions
Preheat oven to 375°F. Roll out dough onto a parchment paper-lined cookie sheet. Cut into a circle (about 12 inches in diameter) using a pizza cutter or a round pan. For personal-sized galettes, make 4 small circles.

Spread aioli on dough, leaving a 1.5-inch border free of aioli. Layer salami, mozzarella and tomatoes on top. Sprinkle with ¼ cup parmesan.

Fold sections of dough inward, overlapping slightly as you make your way around the galette. For one large galette, create a 1.5-inch thick dough "crust." For small galettes, create a 1-inch thick dough "crust."

Mix egg, garlic powder and remaining ¼ cup parmesan cheese to make egg wash. Brush dough "crust" with egg wash. Bake until golden brown, about 15 minutes. Remove from oven and top with basil.