Serves

2
Prep Time

5
Total Time

15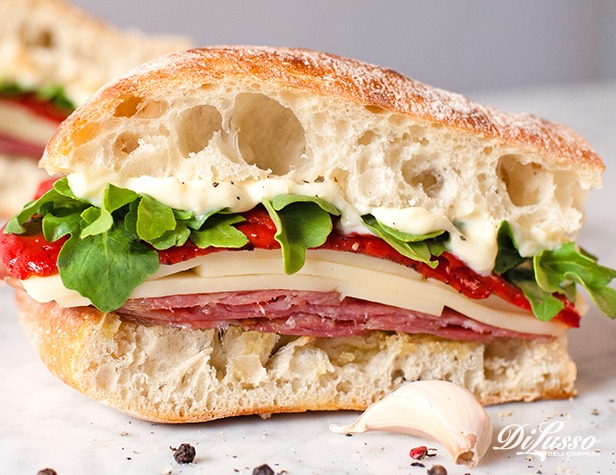 1 focaccia loaf
½ pound DI LUSSO® Hot Sopressata Salami, sliced thin (at the deli counter)
¼ pound DI LUSSO® Mozzarella, sliced at a medium thickness (at the deli counter)
8 roasted red pepper strips
5 ounces arugula
4 tablespoons DI LUSSO™ Garlic Aioli
Herbed Olive Oil
¼ cup olive oil
1 tablespoon fresh basil
¼ teaspoon garlic powder
1/8 teaspoon pepper
1 pinch salt
Directions
Preheat oven to 425° F. Cut focaccia in half vertically. Then cut in half horizontally to create 4 bread slices.

Mix ingredients for herbed olive oil. Brush both sides of all bread slices lightly with herbed olive oil. Lay bread on parchment paper-lined baking sheet. Bake for 5-6 minutes, flipping once halfway through.

Evenly distribute sopressata, mozzarella, roasted red pepper strips and arugula on 2 bread slices. Drizzle each slice with 2 tablespoon aioli. Top with remaining bread slices. Cut in half and serve.