Serves

6
Prep Time

25
Total Time

45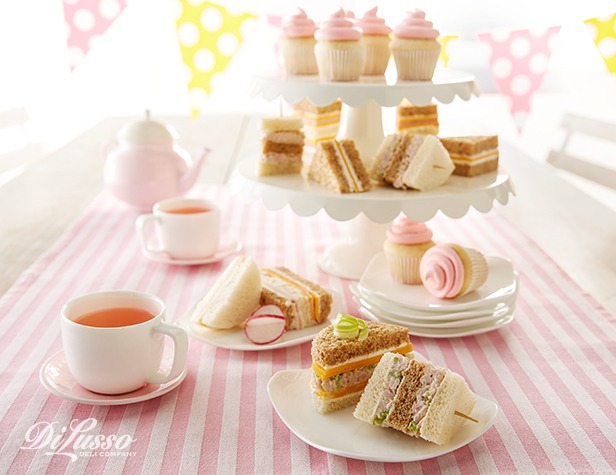 2 tablespoons ranch dressing
6 ounces low fat cream cheese
finely chopped celery, carrots, cucumbers or radishes, if desired
1/4 pound DI LUSSO® Smoked Turkey Breast, sliced and finely chopped
1/4 pound DI LUSSO® Smoked Ham, thinly sliced
1/2 pound variety of DI LUSSO® cheese, sliced (Colby, Cheddar and Swiss)
8 slices each white and wheat bread
1/2 cup butter, softened
Directions
Ranch Dressing Spread: In small bowl, combine ranch dressing, cream cheese and any combination of desired chopped veggies. Set aside.

Turkey Salad Filling: In small bowl, combine chopped turkey breast with mayonnaise and 2 tablespoons finely chopped celery if desired. Set aside.

Spread one side of bread slices with butter and freeze lightly on baking sheet. Make sandwiches by layering different bread, meat, cheese, ranch spread and turkey filling. After assembling, cut crusts off with serrated knife and cut into squares or triangles. Simple cookie cutter shapes can be used as well to cut sandwiches into different shapes. Tea sandwiches can be stored in airtight container overnight. Serve pink lemonade and mini-cupcakes with tea sandwiches for a kids tea party.