Serves

6
Prep Time

15
Total Time

50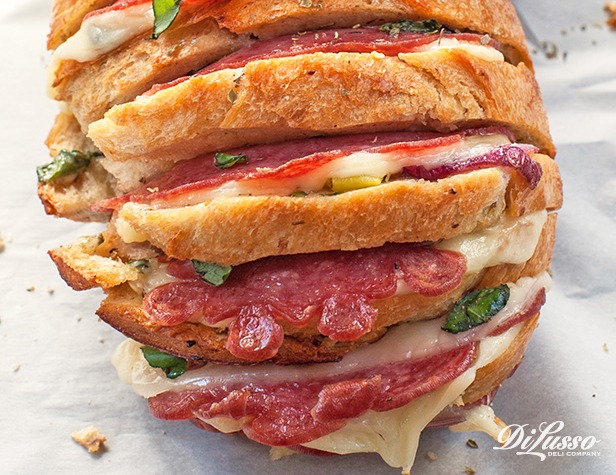 ½ cup thinly sliced red onions
1 tablespoon olive oil
1 loaf Italian bread
1 cup mayonnaise
Dried Italian seasoning, to taste
1-2 garlic cloves, minced
4 fresh basil leaves, chopped
¼ pound DI LUSSO® Italian Dry Salami
¼ pound DI LUSSO® Provolone
¼ pound DI LUSSO® Mozzarella Cheese, sliced 1/2 inch thick (at the deli counter) and shredded
½ cup pepperoncini slices
Directions
Preheat oven to 350°F. Sauté red onions in olive oil until soft, about 15 minutes.

Slice loaf in 1-inch intervals, cutting about ¾ of the way through. Do not cut all the way through. Mix mayonnaise with Italian seasoning and minced garlic. Add chopped fresh basil. Spread mayo mixture in the bread's crevices.

Tuck slices of salami, provolone and mozzarella into every other crevice. In remaining crevices, insert pepperoncini slices and sautéed red onion. Wrap tightly in foil and bake until cheese is completely melted, about 15 minutes. Unwrap foil and bake until bread is crispy on the top, about 5 minutes.