Serves

12
Prep Time

30
Total Time

60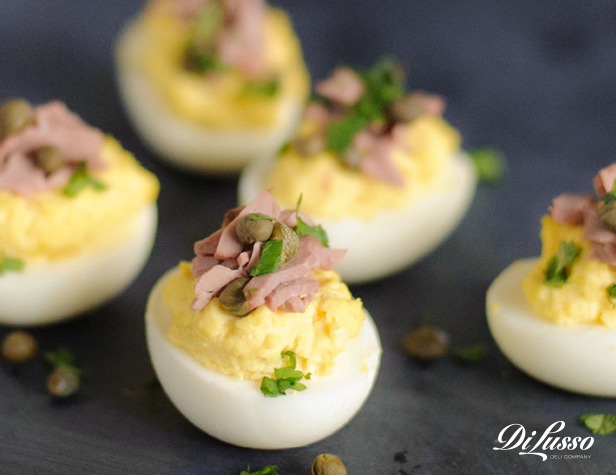 6 eggs
½ cup mayonnaise
¼ cup DI LUSSO® Horseradish Aioli
2 slices DI LUSSO® Seasoned Roast Beef, sliced into small strips
2 tablespoons capers
2 ½ tablespoons fresh parsley, chopped
Directions
Place eggs into a large pot with water and bring to a boil. Remove from heat and let eggs stand in hot water 12-15 minutes. Remove eggs from water, cool under cold running water and peel.

Cut each egg in half lengthwise. Remove the egg yolk and place in bowl. Mash yolks with a fork. Stir in mayonnaise, 2 tablespoons parsley and aioli. Transfer egg yolk mixture to a plastic bag. Fill each egg white with egg yolk mixture.

Garnish each egg with roast beef strips and capers. Sprinkle with remaining ½ tablespoon parsley.