Serves

8
Prep Time

15
Total Time

50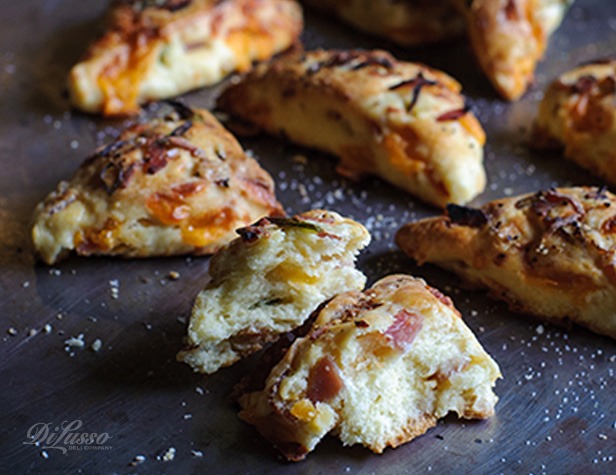 2 1/2 cups all-purpose flour
2 tablespoons sugar
1 tablespoon baking powder
1 teaspoon kosher salt
1/2 cup butter
2 eggs
2/3 cup buttermilk
1 cup shredded DI LUSSO® Wisconsin Sharp Cheddar Cheese
3/4 cup chopped DI LUSSO® Deluxe Deli Ham
1/4 cup grated Parmesan cheese
1/4 cup chopped green onion
2 tablespoons half and half
Coarse sea salt and additional Parmesan cheese for garnish
Directions
In mixing bowl, whisk together flour, sugar, baking powder and salt. Using a pastry cutter or two knives, cut the butter into the flout mixture, until coarse crumbs are formed. In separate bowl, whisk eggs lightly and add buttermilk. Add this liquid to flour mixture and stir until just moist.

In small bowl, mix together Cheddar cheese, ham, Parmesan and green onion. Add to batter, mixing lightly. Note: dough will be sticky. On a lightly floured surface, turn dough out and roll 3/4-inch thick. Cut out three-inch squares, then cut diagonally to make 10 triangles.

Place scones on baking sheet lined with parchment or a silicone mat, and lightly brush with cream. Sprinkle with sea salt and additional Parmesan cheese.

Place scones in the freezer 30 minutes to chill. Meanwhile, heat oven to 400°F. Bake 20 minutes, or until golden.