Serves

6
Prep Time

25
Total Time

35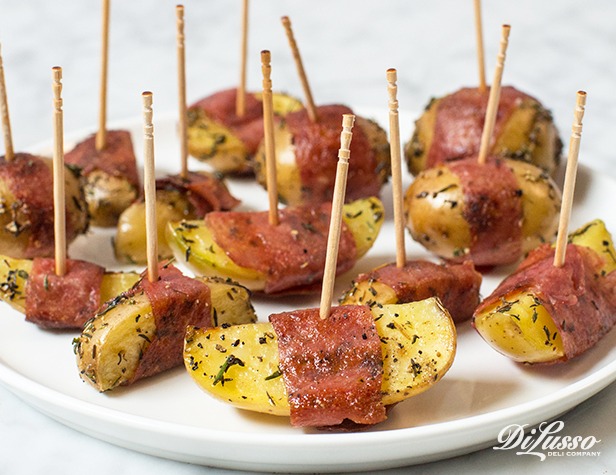 6 baby Yukon gold potatoes, quartered or whole
2 tablespoons olive oil
1 teaspoon rosemary
1 teaspoon garlic
½ teaspoon salt
½ teaspoon pepper
¼ pound DI LUSSO® Hard Salami, sliced thin (at the deli counter)
Metal skewers
Directions
If grilling, preheat grill to medium-high heat. If baking, preheat oven to 450° F.

Place potatoes in large pot filled with 4 cups water. Bring water to boil. Boil potatoes for about 7 minutes. Potatoes should feel soft on the outside, but firm in the middle.

Toss potatoes, olive oil, rosemary, garlic, salt and pepper in plastic gallon freezer bag until well-combined.

Cut hard salami into strips. Wrap each potato in one strip of hard salami. Place salami-wrapped potatoes on skewers.

Place skewers directly on the grill or baking sheet. Grill for about 20 minutes or bake for
25 – 30 minutes, until potatoes are tender.