Serves

6
Prep Time

75
Total Time

75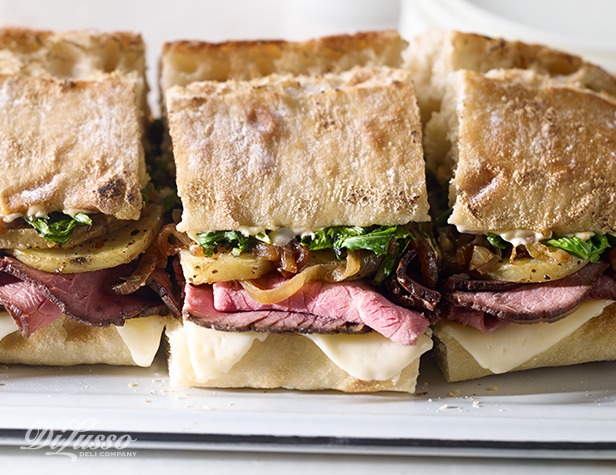 2 tablespoons olive oil, divided
1 medium white or yellow onion, thinly sliced
1 teaspoon sugar
1 tablespoon minced garlic
1 tablespoon dried rosemary
4 Yukon Gold potatoes, roasted and thinly sliced
1 large ciabatta, halved horizontally
3 tablespoons DI LUSSO™ Garlic Aioli
1/2 pound DI LUSSO® Havarti cheese slices
1/2 pound DI LUSSO® Seasoned Italian Roast Beef slices
1/2 cup arugula leaves
Directions
Caramelized Onions: 30 minutes
Coat bottom of skillet with 1 Tablespoon olive oil. Heat pan on medium high heat until oil is shimmering. Add onion slices and stir to coat. Cook 15 minutes, stirring occasionally. Add sugar and tablespoon water. Sprinkle lightly with salt and let cook 15 more minutes (lower the heat as onions cook down), continuing to stir the onions until they have a rich, brown color.

Roasted Potatoes:
Heat oven to 475°F. Combine remaining oil, garlic, rosemary, and salt in large bowl. Toss in potatoes until evenly coated. Spread potatoes in single layer on roasting pan or baking sheet. Roast 20 to 30 minutes, until potatoes are brown on all sides, turning occasionally.

Sandwich:
Smear ciabatta halves with DI LUSSO™ Garlic Aioli. Layer ciabatta with DI LUSSO® Havarti cheese slices, DI LUSSO® Seasoned Italian Roast Beef slices, roasted potato slices, caramelized onions and arugula. Top with remaining ciabatta half. Cut sandwich into 4 to 6 pieces. Arrange on a platter and serve.