Serves

6
Prep Time

5
Total Time

15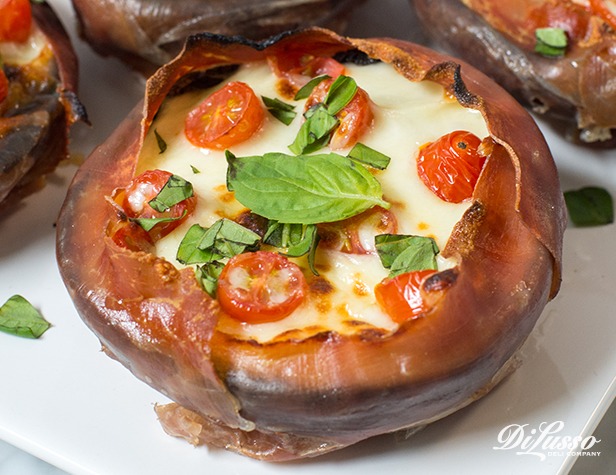 6 portobello mushroom caps
¼ pound DI LUSSO® Mozzarella Cheese, sliced ½ inch thick (at the deli counter) and shredded
6 fresh basil leaves, chopped
1 (10.5 ounce) container cherry tomatoes
¼ pound DI LUSSO® Prosciutto, sliced thin (at the deli counter)
12 toothpicks, soaked in water for 5 minutes
Directions
If grilling, preheat grill to medium-high heat. If baking, preheat oven to 450° F.

Remove stems from mushroom caps. Evenly distribute cheese, basil and cherry tomatoes among mushroom caps. Wrap 1 – 2 slices of prosciutto around each mushroom cap. Secure each with 1 – 2 toothpicks.

Place mushroom caps directly on grill grates or on baking sheet. Grill for 8 – 10 minutes or bake for 10 – 12 minutes, until cheese has melted and prosciutto is crispy.