Serves

2
Prep Time

10
Total Time

25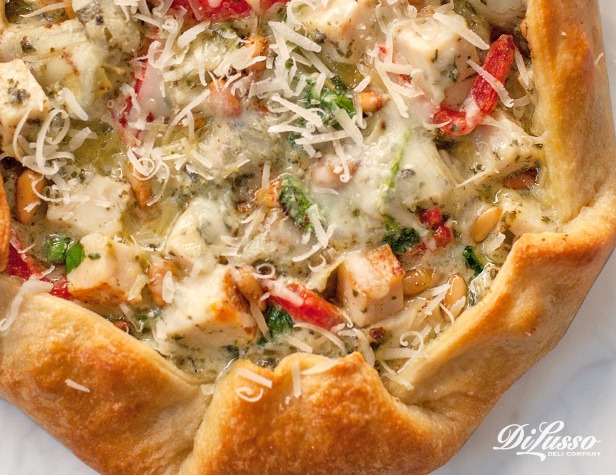 1 (8 ounce) crescent roll dough sheet
1 large egg
1 tablespoon heavy whipping cream
1 teaspoon garlic powder
¼ cup Parmesan cheese, shredded
1 tablespoon olive oil
2 cloves garlic, minced
¼ cup pine nuts
¼ pound DI LUSSO® Oven Roasted Chicken, sliced 1/4 inch thick (at the deli counter) and cubed
¼ pound DI LUSSO® Mozzarella Cheese, sliced 1/2 inch thick (at the deli counter) and shredded
1 (14 ounce) can of artichokes, drained
¼ cup fresh spinach
½ cup pesto
1 tablespoon DI LUSSO™ Basil Aioli
¼ cup roasted red peppers
Directions
Preheat the oven to 375°F. Roll dough onto a parchment paper-lined cookie sheet. Cut into a circle (about 12 inches in diameter) using a pizza cutter or a round pan. For personal-sized galettes, make 4 small circles. Set aside. Mix egg, heavy whipping cream, garlic powder and ¼ cup Parmesan cheese to make egg wash.

Warm olive oil in pan over medium heat. Add garlic and pine nuts. Sautee 2-3 minutes, or until pine nuts are golden brown. Set aside.

Mix chicken, ¾ cup Mozzarella, artichokes, spinach, pesto, aioli and roasted red peppers in a large bowl. Spoon mixture onto dough. Sprinkle roasted pine nuts and remaining ¼ cup Mozzarella on top.

Fold edges over, overlapping slightly. For one large galette, leave a 2-inch border. For small galettes, leave a 1-inch border. Brush dough edges with egg wash. Bake until crust is golden brown, about 15 minutes.