Serves

4
Prep Time

15
Total Time

25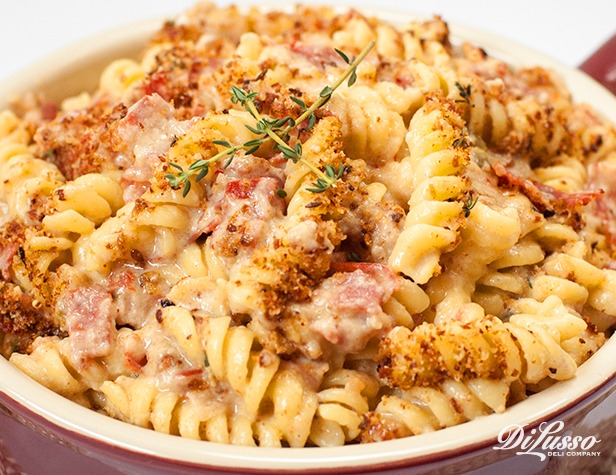 2 cups rotini pasta noodles
3 tablespoons butter
3 tablespoons flour
4 cups 2% milk
1.5 cups DI LUSSO® Pepper Jack, shredded
1.5 cups DI LUSSO® Mozzarella, shredded
2 tablespoons jalapeños, pickled or fresh
1/4 pound DI LUSSO® Hot Sopressata Salami, sliced into strips
2 tablespoons melted butter
1 cup breadcrumbs
1 tablespoon thyme
Hot sauce, to taste
Directions
Boil pasta in salted water until cooked al dente. Drain and set aside.

While pasta is boiling, melt butter in saucepan over medium heat. Add flour and stir to form paste. Let cook 1-2 minutes, until golden. Slowly add milk, whisking constantly to avoid lumps. Whisk until milk is fully incorporated.

Bring sauce to simmer and cook until thickened, 6-8 minutes. Remove from heat. Add cheese, jalapeños and salami. Stir until cheese is melted and sauce is creamy. Pour over noodles in oven-safe dish.

Toss melted butter, breadcrumbs and thyme. Sprinkle breadcrumb mixture over noodles. Broil in oven for 6-8 minutes, or until breadcrumbs are golden brown. Serve with hot sauce, to taste.