Serves

8
Prep Time

15
Total Time

15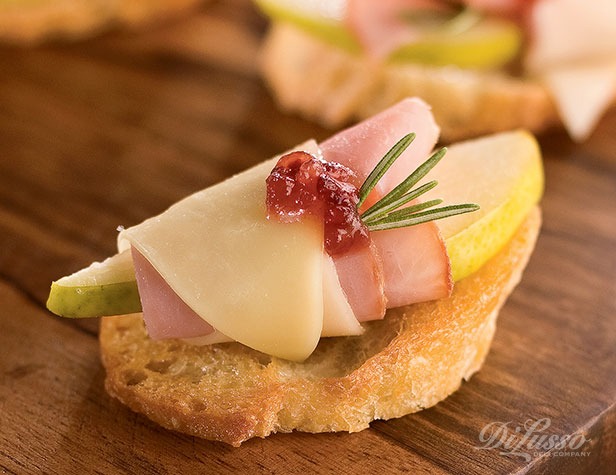 1 loaf sourdough baguette
Olive oil
1/2 cup sour cream
1/4 cup packed brown sugar
1 ripe pear, thinly sliced
1/2 pound DI LUSSO® Virginia Ham, thinly sliced
1/4 pound DI LUSSO® Provolone Cheese
1 (8-ounce) can whole berry cranberry sauce
Directions
Heat broiler.

Slice baguette into 1/4-inch rounds; drizzle each round with olive oil. Place rounds on baking sheet. Broil 5 to 10 minutes or until golden brown. Turn bread over; broil until browned.

In mixing bowl, combine sour cream and brown sugar. Spread sour cream mixture on bread.

Wrap each piece of pear with a ham and cheese slice. Place 1 wrapped pear on each slice bread. Top with a dollop of cranberry sauce.