Serves

4
Prep Time

15
Total Time

30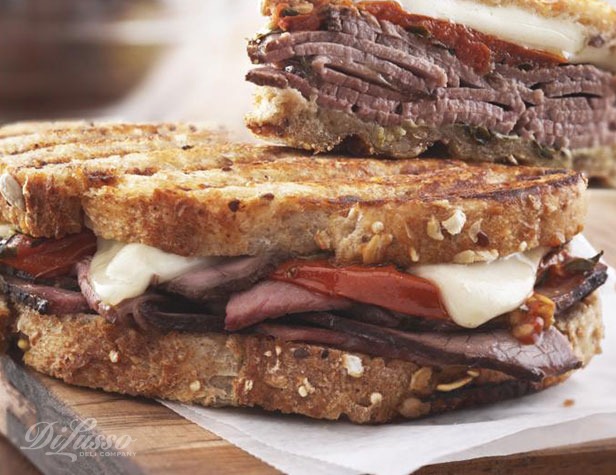 2 Roma tomatoes, sliced
1/2 cup plus 2 tablespoons light olive oil, divided
1 tablespoon fresh basil, chopped
1 tablespoon fresh thyme, chopped
8 slices multigrain bread
1/2 cup prepared spinach-artichoke dip
1/2 pound DI LUSSO® Italian Style Roast Beef, sliced
1/4 pound DI LUSSO® Provolone Cheese, sliced
Directions
Preheat panini sandwich press.

In mixing bowl, toss together tomato, 2 tablespoons oil, basil and thyme. Spread mixture onto foil-lined baking sheet; bake 20 minutes.

Lightly brush one side of each of 4 slices bread with oil. Turn slices over; spread each with dip. Top each slice with heated tomato mixture, roast beef and cheese. Top with remaining bread. Brush outside of bread with remaining oil.

On heated panini sandwich press, grill sandwiches until bread is golden brown and cheese is melted.