Serves

6
Prep Time

20
Total Time

25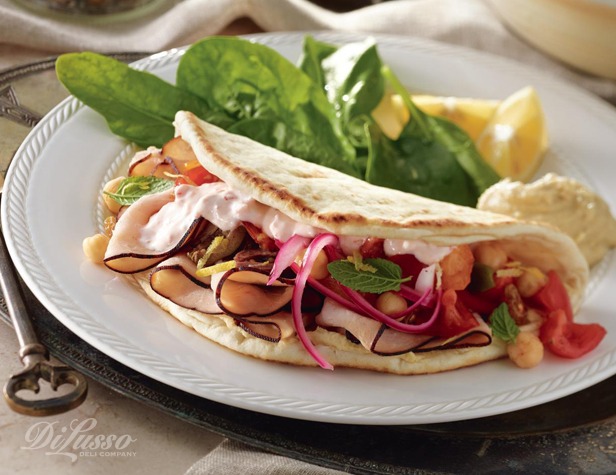 6 pita rounds, halved
2 tablespoons olive oil
1 lb DI LUSSO® Maple Turkey, sliced
Moroccan Salsa
chopped mint
1/2 cup golden raisins
2 teaspoons ground cinnamon
1 teaspoon fresh ground nutmeg
1 teaspoon cumin
Pinch of turmeric
2 teaspoons honey
1 clove garlic, minced
2 tablespoons olive oil
2 cups diced seeded tomatoes
2 tablespoons lemon juice
1 teaspoon lemon zest
1 cup canned garbanzo beans, rinsed and drained
1 cup chopped pitted green olives
3 tablespoons white balsamic vinegar
Kosher salt and freshly ground pepper to taste
Harissa Yogurt
2 tablespoons harissa paste (more or less to taste)
1 cup plain Greek yogurt
Directions
Heat oven to 350° F.

Place raisins in a small bowl filled with hot water and let soften 5 to 10 minutes; drain and set aside.

In mixing bowl, stir together cinnamon, nutmeg, cumin and turmeric. Add honey, garlic, olive oil, tomatoes, lemon juice, lemon zest, garbanzo beans, olives, vinegar, salt and pepper. Mix well.

In separate bowl, mix yogurt and harissa.

Brush pita halves with olive oil. Arrange on baking sheet and bake 5 minutes or until golden. Remove from oven and top each half with turkey slices. Spoon on salsa and harissa-yogurt topping. Garnish with sliced pickled onions and fresh mint.