Serves

8
Prep Time

25
Total Time

25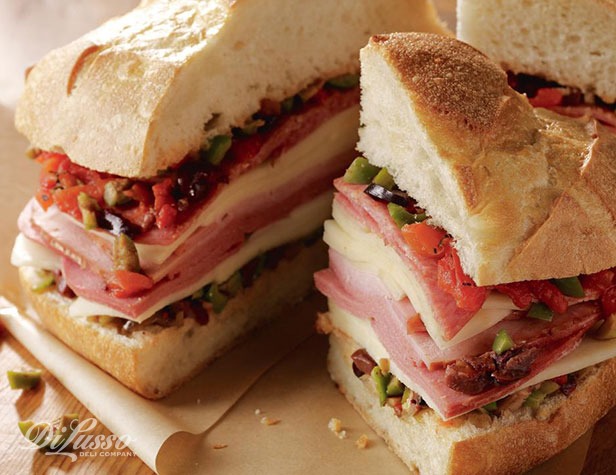 Olive Salad
1/4 cup balsamic vinegar
1/3 cup olive oil
2 cloves garlic, chopped
1/2 cup DI LUSSO® Roasted Red Pepper Strips, chopped
1/2 cup DI LUSSO® Mediterranean Mixed Olives, pitted and chopped
Muffaletta
1 (1-pound) round bread loaf
1/2 pound DI LUSSO® Beef Bologna, sliced
1/2 pound DI LUSSO® Genoa Salami, sliced
1/2 pound DI LUSSO® Deli Deluxe Ham, sliced
1/4 pound DI LUSSO® Provolone Cheese, sliced
1/4 pound DI LUSSO® Mozzarella Cheese, sliced
Directions
In mixing bowl, whisk together vinegar and oil. Add chopped garlic, peppers and olives. Set aside.

Cut top 1-inch off bread loaf and set aside. Hollow out bottom and top halves of bread, setting filling aside for another use. Spread half the olive and roasted pepper mix over bread bottom. Layer meats and cheeses over bread bottom. Spread remaining olive and roasted pepper mix on top of the sandwich. Cover with bread top, pressing down firmly.

Serve sandwich immediately or wrap tightly in plastic wrap and refrigerate up to 8 hours before serving.