Serves

4
Prep Time

8
Total Time

15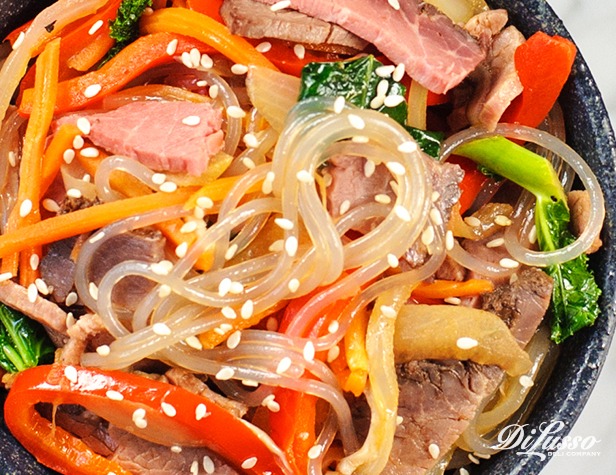 10 ounces sweet potato (also known as dangmyeon) or thin rice noodles
4 tablespoons sesame oil
¼ cup soy sauce
3 tablespoons rice vinegar
2 tablespoons honey
2 tablespoons water
1 white onion, slivered
2 cups matchstick carrots
2 red bell peppers, julienned
1 cup shiitake mushrooms, thinly sliced
2 cups kale, chopped
1/2 pound DI LUSSO® London Broil Roast Beef, sliced 1/4 inch thick (at the deil counter) and cut into strips
Toasted sesame seeds, to taste
Directions
Cook noodles according to package instructions. Drain noodles, toss with 1 tablespoon sesame oil and set aside. Meanwhile, combine soy sauce, rice vinegar, honey and water to make sauce. Set aside.

Warm 3 tablespoons sesame oil in skillet over medium heat. Add onion, carrots and bell pepper. Cook until vegetables soften, about 2-3 minutes. Add mushrooms and cook for one more minute.

Add noodles and sauce mixture to the skillet. Toss until fully combined. Fold in kale and roast beef. Cook for about 1-2 minutes. Remove from heat, garnish with sesame seeds and serve.