Serves

2
Prep Time

5
Total Time

10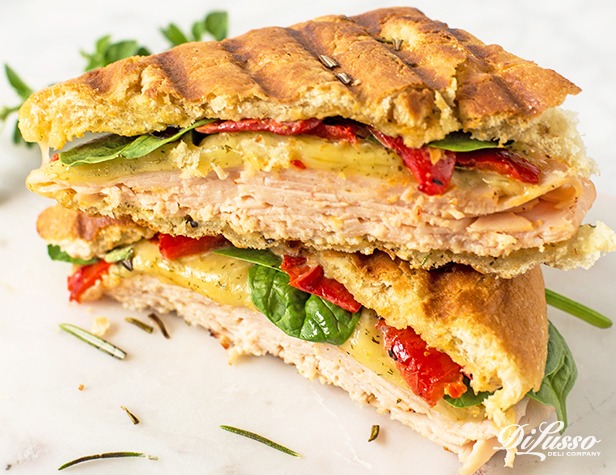 1 rosemary focaccia loaf
½ pound DI LUSSO® Sun-Dried Tomato Turkey, sliced thin (at the deli counter)
½ cup spinach
¼ pound DI LUSSO® Havarti Herb Cheese, sliced thin (at the deli counter)
8 roasted red pepper strips
Dried oregano, to taste
Herbed Olive Oil
¼ cup olive oil
1 tablespoon fresh basil, chopped
¼ teaspoon fresh garlic
Salt and pepper, to taste
Directions
Heat panini press.

Cut focaccia in half, vertically. Then cut in half horizontally to create 4 bread slices. Mix ingredients for herbed olive oil and spread on the outside of all bread slices.

Evenly distribute turkey, spinach, cheese, red pepper strips and oregano on 2 bread slices. Top with remaining bread slices.

Place sandwiches in the panini press. Cook for about 4 minutes, or until the bread has started to brown and the cheese has melted. Cut in half and serve.

In place of a panini press, you can cook in a skillet over medium heat. Cook for about 10 minutes, flipping once.