Serves

6-8
Prep Time

10
Total Time

45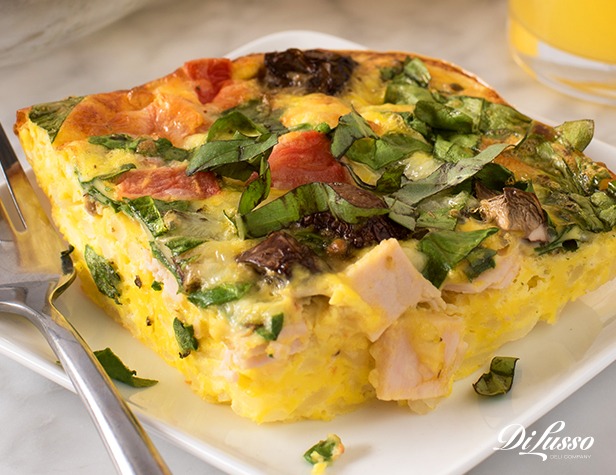 14 eggs
1⁄2 cup milk
1⁄2 tablespoon Italian seasoning
1⁄4 cup mushrooms, chopped
1⁄2 cup Roma tomatoes, diced
2 cups spinach, chopped
1⁄4 pound DI LUSSO® Mozzarella Cheese, sliced 1⁄2 inch thick (at the deli counter) and shredded
1 cup shredded hash browns
1⁄2 pound DI LUSSO® Cracked Black Pepper Turkey, sliced at a medium thickness
Chopped fresh basil, for garnish (optional)
Directions
Preheat oven to 350° F.

Whisk eggs, milk and Italian seasoning in a large bowl. Add mushrooms, tomatoes, spinach and cheese. Mix until well-combined.

Spread hash browns on the bottom of a 9x13-inch pan. Layer turkey on top. Pour egg mixture over the whole pan.

Bake uncovered for 35-45 minutes, or until baked through and golden brown on top. If desired, top with fresh basil.