Serves

4
Prep Time

20
Total Time

30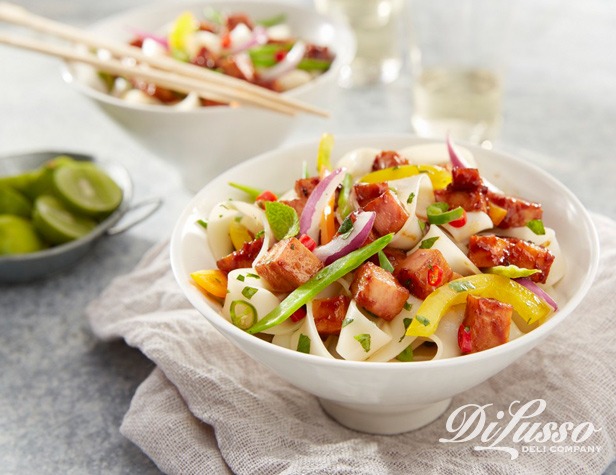 1 pound DI LUSSO® applewood smoked chicken, cubed
3 tablespoons hoisin sauce
1/2 teaspoon freshly ground pepper
1/4 teaspoon five-spice powder
3 bundles tapioca noodles (about 3 ounce/85g) (rice of mung bean noodles)
Boiling water
1 cup cilantro leaves & stems, coarsely chopped
2/3 cup mint leaves, coarsely chopped
1 tablespoon canola oil
1 handful snow peas, trimmed & julienned
1 red bell pepper julienned
1/2 small red onion, thinly sliced
Extra cilantro & mint leaves, to serve
Chopped red chilies, to serve
Lime Dressing
1/4 cup lime juice
3 tablespoons grated palm sugar (or brown sugar)
2 tablespoons fish sauce
2 teaspoons toasted sesame seed oil
2 to 3 small red chilies, thinly sliced
1 clove garlic, minced
Directions
To make dressing: Place all ingredients in a jar with a screw-­top lid. Shake well to combine. The dressing can be made several hours ahead of time.

Combine chicken, hoisin sauce, pepper and five-spice powder in a re-sealable bag or a small bowl; stir to coat.

Place noodles in a heatproof bowl and pour over enough boiling water to cover them completely. Leave them to stand for 20 minutes or until they've softened. Drain noodles into a sieve and rinse under cold water, ensuring noodles don't stick together; drain. Place in a medium bowl. Add chopped herbs and 3 tablespoons of dressing; toss to coat.

Heat oil in a wok or skillet over medium-­high heat. Add chicken and hoisin sauce. Stir‐fry for 2 to 3 minutes or until hot & sticky.

Combine noodles, chicken, snow peas, bell pepper and onion in a medium bowl. Spoon onto serving plates or a platter. Drizzle with remaining dressing; serve immediately.