Serves

20-24
Prep Time

30
Total Time

60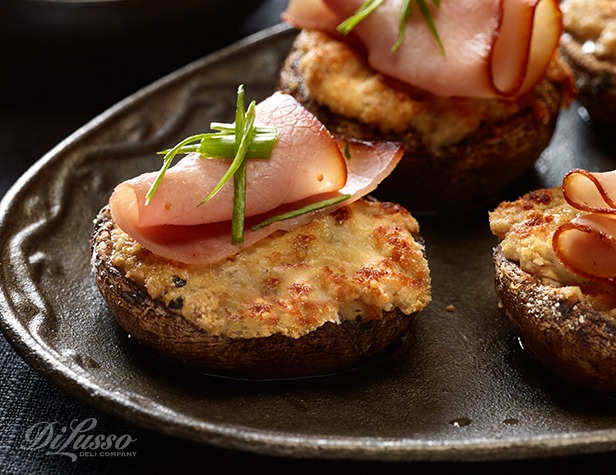 1tablespoon butter
1 jumbo sweet onion, chopped
1/2 cup gluten-free beef broth
1 tablespoon gluten-free worcestershire sauce
1/2 teaspoon sugar
1/4 teaspoon dried thyme
1 bay leaf
8 ounce 1/3 less fat cream cheese, softened to room temperature
1/2 teaspoon garlic powder
24 ounce baby portobello mushrooms
1 pound DI LUSSO® Ham, sliced
1/2 cup freshly grated Parmesan cheese
salt and pepper
Directions
Melt butter in a large skillet over medium heat. Add onions, beef broth, worcestershire sauce, sugar, dried thyme, bay leaf and a little salt and pepper. Bring the mixture to a boil over high heat then turn heat back down to medium and cook, stirring occasionally, until onions are soft and dark brown, 20 minutes. Cool slightly.

Meanwhile, remove stems from mushrooms then place on a parchment paper or lined baking sheet. Preheat oven to 350°F. Pour parmesan cheese into a small dish.

In a large bowl stir together softened cream cheese, garlic powder and pepper to taste. Add onion mixture then mix until combined. Scoop by the tablespoon into mushroom caps - a little less for smaller mushrooms, a little more for larger mushrooms - then use a small spoon to make sure filling is packed into the cavity. Roll tops gently in Parmesan cheese, then fold 1/2 slice of DI LUSSO® Ham over top place back on baking sheet and bake for 20-22 minutes or until tops are golden brown. Sprinkle remaining onions over top to garnish.