Serves

8
Prep Time

10
Total Time

40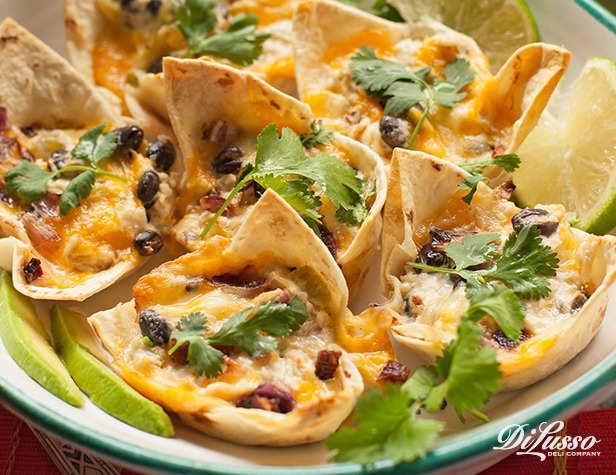 6 flour tortillas
1 pound DI LUSSO® Oven Roasted Chicken Breast, sliced 1/4 inch thick (at the deli counter) and cubed
¼ pound DI LUSSO® Colby Jack Cheese, sliced 1/2 inch thick (at the deli counter) and shredded
1 (15 ounce) can black beans, drained and rinsed
2 (4 ounce) cans green chiles
½ cup onion, chopped
3 ounces cream cheese, softened
½ cup sour cream
½ teaspoon cumin
Salt and pepper, to taste
Directions
Preheat oven to 350°F. Cut each tortilla into 4 equal wedges. Press wedges into lightly greased mini muffin cups. Toast in the oven for 5 minutes.

While tortillas are baking, mix chicken breast, ¾ cup cheese, black beans, green chiles, onion, cream cheese and sour cream. Add cumin. Salt and pepper, to taste. Spoon mixture evenly amongst baked tortillas. Top with remaining ¼ cup cheese.

Cover pan with foil and bake for 10 minutes. Remove foil and bake for an additional 15 minutes, or until heated through and golden brown on top. Serve with fresh lime wedges, avocado slices, cilantro, green onions, salsa verde and/or pico de gallo.