Serves

20
Prep Time

22
Total Time

37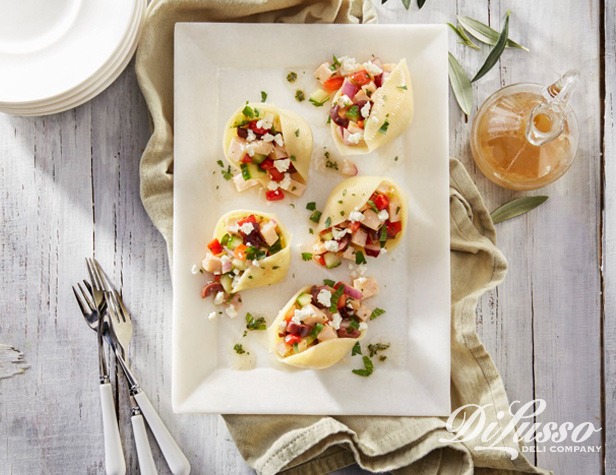 1 (12 ounce) package jumbo pasta shells, cooked according to package directions
1 cup diced DI LUSSO® applewood smoked chicken
1/2 cup DI LUSSO® roasted red peppers strips, drained and diced
1/2 cup diced English cucumber
1/4 cup diced onion
1/4 cup DI LUSSO® kalamata olives, diced
1/4 cup chopped fresh cilantro
1/4 cup chopped fresh Italian parsley
2 tablespoons chopped fresh mint
1/2 cup crumbled feta cheese
Lemon Dressing
1/4 cup lemon juice
3 tablespoons olive oil
1 tablespoon honey
1 clove garlic, crushed
1/2 teaspoon ground cumin
pinch salt and freshly ground pepper
Directions
To make the dressing: Combine all ingredients in a jar with screw‐top lid; shake well.

Rinse pasta shells under cold water; drain. Arrange on a baking sheet or platter.

Combine chicken, peppers, cucumber, onion, olives, cilantro, parsley & mint in medium bowl. Add all but 1 tablespoon of dressing; toss to coat. Spoon chicken mixture into pasta shells. Drizzle with reserved dressing. Sprinkle with feta cheese.