Serves

6
Prep Time

20
Total Time

90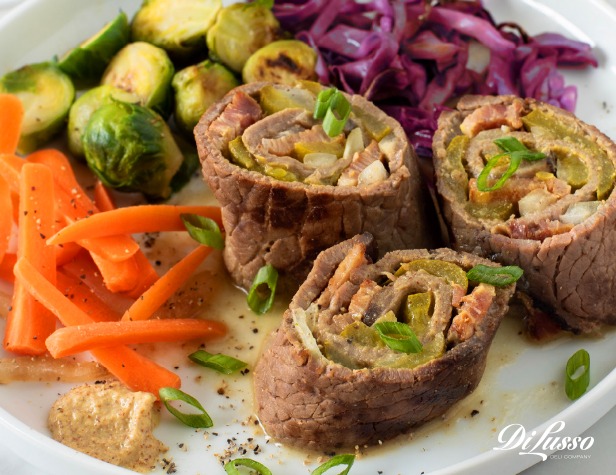 1 ½ pounds DI LUSSO® Medium Seasoned Roast Beef, sliced ¼ inch thick (at the deli counter)
DI LUSSO® Deli Style Mustard, to taste
½ pound thick sliced bacon
2 large onions, sliced
1 (16 ounce) jar dill pickle slices
2 tablespoons butter
2 ½ cups water
1 cube beef bouillon
Directions
Generously spread mustard over one side of each piece of roast beef. Evenly distribute the bacon, onion and pickles (we recommend at least 3 slices of each ingredient) amongst the roast beef slices and form each into a roll. Use string or toothpicks to hold each roll together.

Heat a skillet over medium heat and melt butter. Once butter is melted, place the rolls in the pan and sauté until all sides are browned.

Keep the rolls in the pan and add the water and bouillon cube; stirring to dissolve the bouillon cube. Simmer the rolls until tender; about thirty minutes.

Remove rolls from pan and place on a serving dish. Pour the sauce from the pan over the rolls and serve immediately.