Serves

4
Prep Time

30
Total Time

60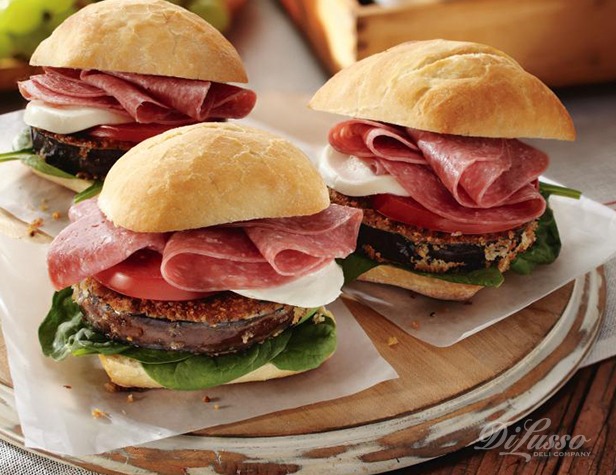 Fried Eggplant
4 (1/2-inch-thick) slices eggplant
Salt
1/4 cup all-purpose flour
2 large eggs, lightly beaten
1 cup panko (Japanese breadcrumbs)
1 tablespoon freshly grated Parmesan cheese
1/3 cup olive oil, for frying
Sandwich
4 ciabatta rolls, split
1 cup fresh baby spinach
2 tablespoons vinaigrette salad dressing
1 tomato, sliced
1/4 pound DI LUSSO® Mozzarella Cheese
1/2 pound DI LUSSO® Genoa Salami
Directions
Place eggplant in colander; sprinkle with salt. Let stand 30 minutes to release excess moisture. Rinse eggplant; pat dry.

Place flour in small bowl. Place eggs in second bowl. In third small bowl, combine panko and Parmesan cheese.

In large skillet, heat olive oil over medium-high heat. Dip eggplant slices in flour, eggs and panko mixture. Add slices to hot oil. Cook, turning once, 2 to 3 minutes or until golden brown and crisp.
Meanwhile, place about 1/4 cup spinach on bottom half of each roll; drizzle with vinaigrette. Top each roll with 1 slice fried eggplant, tomato, mozzarella cheese and salami. Cover with tops halves of rolls.