Serves

4
Prep Time

5
Total Time

15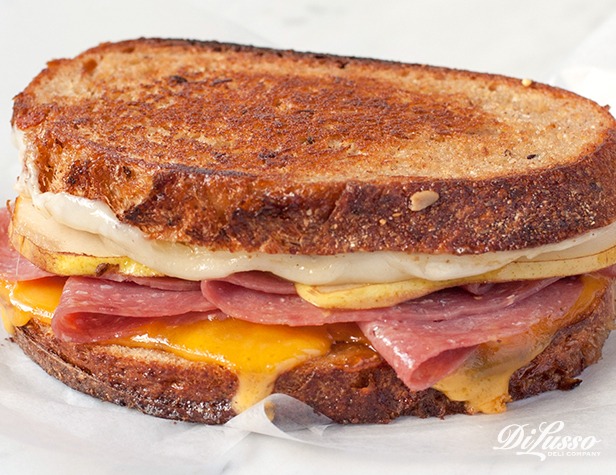 8 slices multigrain bread
4 tablespoons fig spread
¼ pound DI LUSSO® Wisconsin Sharp Cheddar, sliced thin (at the deli counter)
¼ pound DI LUSSO® Genoa Salami, sliced thin (at the deli counter)
1 pear, cut into 8 thin slices
¼ pound DI LUSSO® Provolone, sliced thin (at the deli counter)
4 tablespoons butter
Cinnamon Spread
4 tablespoons mayonnaise
4 tablespoons butter
cinnamon, to taste
Directions
Mix ingredients for cinnamon spread. Set aside.

Spread fig spread on 4 bread slices. Then evenly distribute cheddar, salami (folded in half), pear slices and provolone among bread slices. Place another bread slice on top of each sandwich and lightly brush with cinnamon spread.

Melt 1-2 tablespoons butter in skillet over medium heat. Place 1-2 sandwiches in the skillet, cinnamon spread-side down. Lightly brush top slices of bread with cinnamon spread.

Grill for 8-10 minutes, flipping once halfway through. Repeat with remaining sandwiches.