Serves

4
Prep Time

30
Total Time

30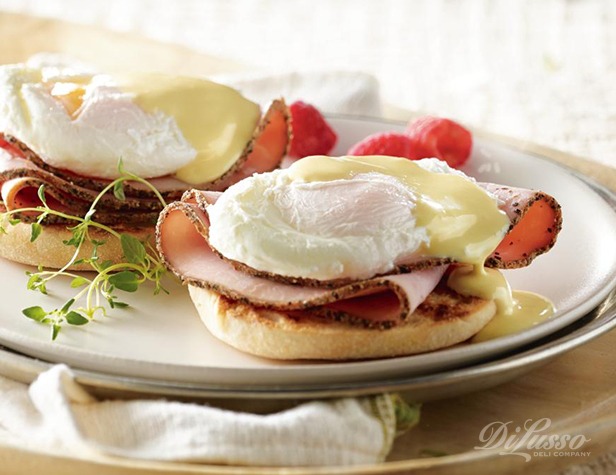 One package Hollandaise sauce mix
4 eggs
1/4 pound DI LUSSO® Double Smoked Black Pepper Ham, sliced
4 teaspoons butter
2 English muffins, split and toasted
Fresh tarragon or thyme
Directions
Prepare Hollandaise sauce according to package directions, cover and keep warm.

Pour about three inches of water into deep skillet. Bring water to a gentle boil. Break one egg at a time into small shallow bowl. Hold bowl close to water; slip egg into water. Repeat with remaining eggs.

Cook 4 to 5 minutes or until whites are completely set and yolks begin to thicken. Carefully remove eggs from water with slotted spoon and set aside.

Meanwhile, place ham slices in skillet and cook over medium heat, turning occasionally, 2 to 3 minutes or until heated through.

Spread 1 teaspoon butter onto cut sides of each English muffin. Place muffins on serving plates; top each with one slice ham and one cooked egg. Spoon Hollandaise sauce over eggs. Garnish with fresh tarragon or thyme.