Serves

16
Prep Time

15
Total Time

40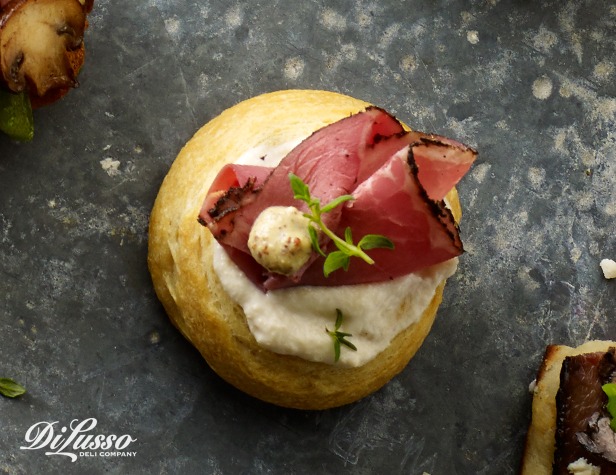 2 packages crescent rounds
1 3-ounce package cream cheese
1 tablespoon DI LUSSO™ horseradish
1 teaspoon DI LUSSO™ Dijon mustard
3/4 pound DI LUSSO® Pastrami, sliced
1 tablespoon chopped fresh parsley
Directions
Heat oven to 375°F. Remove crescent rounds from package, do not unroll. Using serrated knife, cut roll evenly into16 rounds. Then carefully separate and place in ungreased regular-size16 muffin tin. Bake 8 to 10 minutes or until golden brown.

Press back, immediately, center of each baked round to make indentation. Remove rounds from muffin cups to cooling rack; cool 10 minutes.

Mix cream cheese and horseradish in a small bowl. Then spread 1/2 teaspoon on top of each round. Cut DI LUSSO® Pastrami into halves and fold then place onto cheese mixture. Place a dab of DI LUSSO™ Dijon mustard on top of the DI LUSSO® Pastrami and garnich with parsley.