Serves

6
Prep Time

20
Total Time

30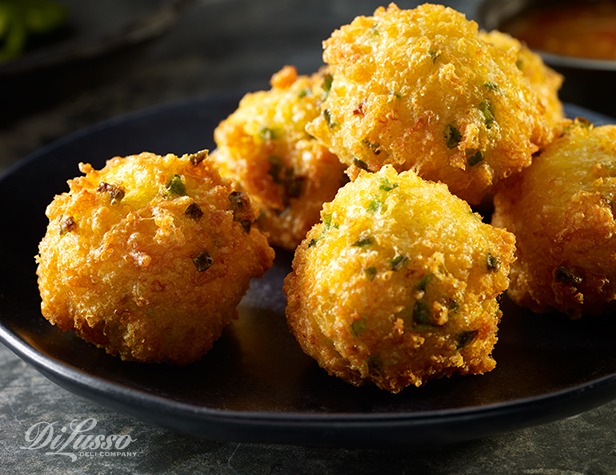 2 cups DI LUSSO® Cheddar cheese, finely shredded (order 1/2 pound block)
3/4 cups DI LUSSO® mozzarella, finely shredded (order 1/4 pound block)
3/4 cups Parmesan, finely shredded
3 jalapeno peppers, diced
2 eggs
1 teaspoon baking powder
1/3 cup plain flour
1 teaspoon salt
oil for frying
DI LUSSO™ onion sauce or sweet chili sauce
Skewers
Directions
To make the balls combine 2 cups of finely shredded DI LUSSO® Cheddar cheese, 3/4 cup finely shredded DI LUSSO® mozzarella cheese and 3/4 cup finely shredded Parmesan cheese with 2 lightly beaten eggs, 1/3 cup plain flour, 3 diced jalapeno peppers and 1 teaspoon of baking powder in a large bowl.

Stir until the mixture comes together, pressing it together if needed. Measure each ball as a scant 1 tablespoon of mixture (don't make them too big because they'll puff on cooking) and roll into balls.

Deep-fry cheese balls in hot oil 350°F, until they turn golden brown. Drain on paper towel.

To serve, skewer two or three balls on small skewers. Serve with DI LUSSO™ sweet onion sauce or sweet chili sauce.