Serves

4
Prep Time

15
Total Time

45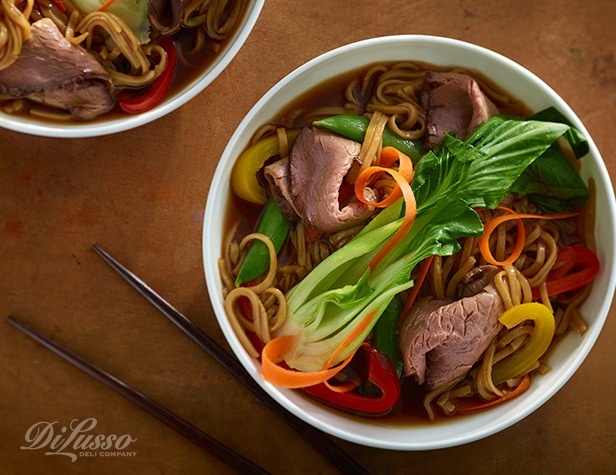 ½ pound DI LUSSO® Seasoned Roast Beef, rare
1 ½ quart beef broth
2 tablespoons ginger, finely chopped
2 tablespoons garlic, minced
½ cup Chinese cooking wine
2 tablespoons oyster sauce
2 tablespoons sesame oil
pinch sugar
pinch salt and pepper
pinch star anise
1red and yellow peppers, sliced
1 package sugar snap peas
1 cup green onions, chopped long for garnish
baby Shanghai bok choy, cut in half, lengthways
1 package rice noodles
Directions
Cook 1 ½ quarts of beef broth in a large pot, add noodles. Then flavor with ginger, garlic, Chinese cooking wine, oyster sauce, sesame oil, pinch of sugar, salt, pepper, star anise. Simmer on medium for 30 minutes.

The last 10 minutes add the vegetables (sliced red and yellow peppers, sugar snap peas, baby Shanghai bok choy) in the hot broth.
Roll slices of DI LUSSO® Seasoned Roast Beef and briefly place into broth just to heat.

Once the meat is warmed, ladle into individual bowls and garnish green onions.

Drizzle, or serve on the side, with Sriracha sauce.