Serves

2
Prep Time

10
Total Time

15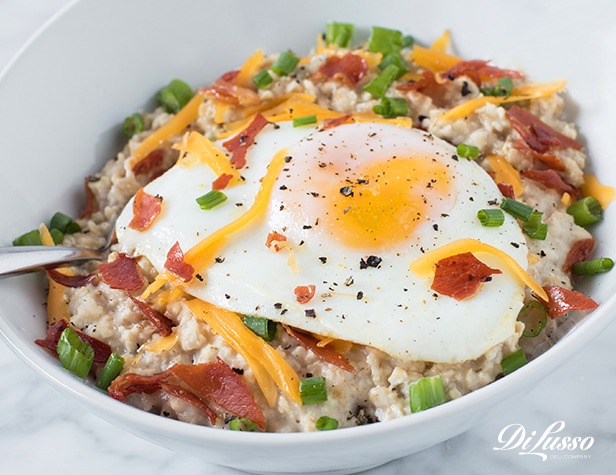 ¼ pound DI LUSSO® Prosciutto, cut into thin strips
1 tablespoon butter
Salt and pepper, to taste
2 large eggs
1 cup quick oats
½ cup water or chicken stock
2 teaspoons garlic powder
¼ pound DI LUSSO® Cheddar Cheese, sliced ½ inch thick (at the deli counter) and shredded
1 bunch scallions, chopped
Directions
Preheat oven to 350°F. Place prosciutto on parchment paper-lined baking sheet. Bake for 5-8 minutes, or until prosciutto is crispy.

Meanwhile, heat butter in skillet over medium heat. Crack eggs into pan. Let cook until they reach your desired doneness.

While eggs are cooking, combine oats, water and garlic powder. Microwave according to package instructions.

Top cooked oatmeal with cheese, crispy prosciutto, eggs and scallions. Add salt and pepper, to taste.