Serves

6
Prep Time

10
Total Time

30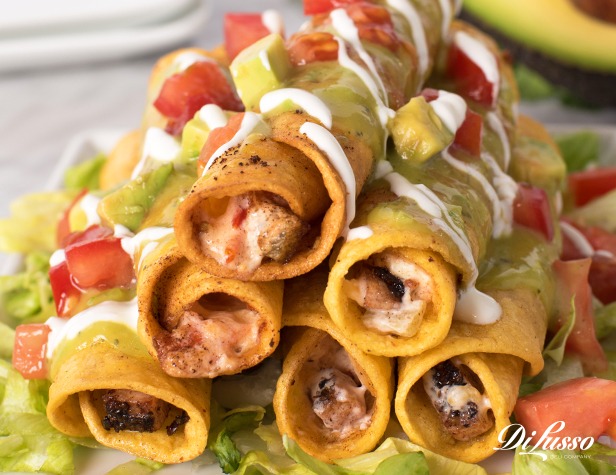 1 (8 ounce) package cream cheese
1/4 cup sour cream
1/2 pound DI LUSSO® Colby Jack Cheese, sliced 1/2 inch thick (at the deli counter) and shredded
1/2 cup salsa
1 (4 ounce) can diced green chiles
12 (6-inch) corn tortillas
1 pound DI LUSSO® Cracked Black Pepper Turkey
Salt, to taste
Vegetable Oil
Assorted toppings- shredded lettuce, chopped tomatoes, guacamole, sour cream, etc.
Directions
Heat skillet with vegetable oil to 350°F.

Mix cream cheese, sour cream, Colby jack, salsa and green chiles until well-combined. Line baking sheet with parchment paper. Brush with olive oil.

Heat tortillas in the microwave for about 30 seconds (so they're easier to fold). Evenly layer turkey on tortillas. Spread cream cheese mixture over turkey. Roll tortillas and secure with a toothpick.

Place stuffed tortillas seam side-down in skillet. (Use toothpick to help keep tortillas closed.) Cook on each side for 60 seconds and take out. Cook until edges of taquitos are browned.

Remove from heat and garnish with desired toppings.