Serves

4-6
Prep Time

10
Total Time

15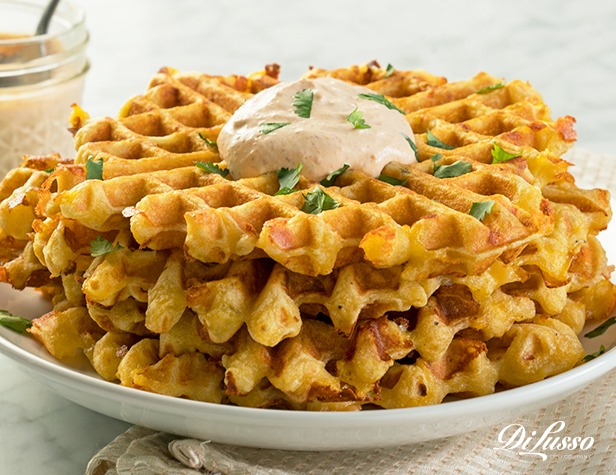 2 cups all-purpose flour
2 teaspoons baking powder
1 teaspoon baking soda
½ teaspoon salt
Pinch of black pepper
¼ pound DI LUSSO® Wisconsin Sharp Cheddar Cheese, sliced ¼ inch thick (at the deli counter) and shredded
¼ pound DI LUSSO® Habañero Jack Cheese, sliced ¼ inch thick (at the deli counter) and shredded
½ cup roasted red peppers, sliced into small pieces
1-2 pickled jalapeños, minced
2 large eggs, lightly beaten
1 3/4 cup milk
2 tablespoons vegetable oil
1 teaspoon cumin
½ teaspoon garlic powder
1 bunch cilantro, for garnish
Chipotle Mustard Spread
¼ cup DI LUSSO® Chipotle Mustard
2 tablespoons sour cream
Directions
Preheat waffle iron.

Whisk flour, baking powder, baking soda, salt and pepper until blended. Add cheese, roasted red peppers and jalapeños. Mix to coat.

In a separate bowl, whisk eggs, milk and oil. Add cumin and garlic powder. Add dry ingredients to wet ingredients. Whisk just until combined.

Grease hot waffle iron. Pour about ½ cup of batter into the waffle iron. Cook for 3-5 minutes, or until cooked through and golden brown.

In small bowl, combine mustard and sour cream. Spread on waffles. Garnish with fresh cilantro.