Serves

2
Prep Time

5
Total Time

15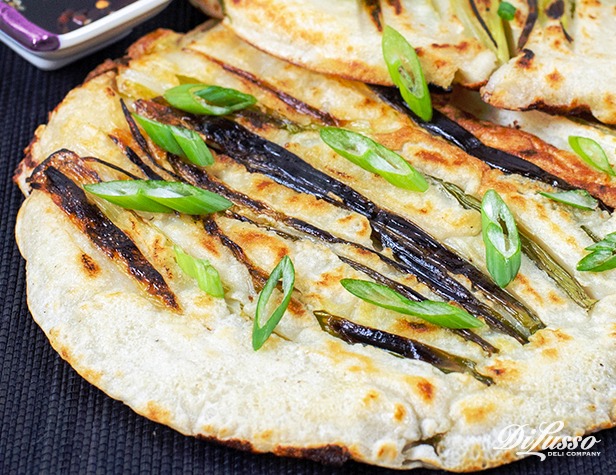 1 ¼ cups cake flour
1 teaspoon salt
1 cup cold water
2-3 tablespoons vegetable oil
18 scallion stalks, edges trimmed
1/4 pound DI LUSSO® Mozzarella, sliced 1/2 inch thick (at the deli counter) and shredded
2 large eggs, beaten
Dipping Sauce
2 tablespoons soy sauce
1 tablespoon rice vinegar
1 tablespoon honey
Sesame seeds, to taste
Red chili flakes, to taste
Directions
Combine cake flour and salt in a bowl. Slowly add cold water and whisk until just combined.

Heat 1-2 tablespoons oil in skillet over medium heat. Place 9 scallions in a medium frying pan. Drizzle half of the batter over the scallions making sure there is batter between all of the scallions. Sprinkle 1/3 cup cheese on top. Pour 1 beaten egg over the batter mixture.

Cook until edges of the pancake are crispy, about 3 minutes. Flip and cook for another 3 minutes, occasionally pressing down on the pajeon with a spatula. Flip once more and cook for another 30 seconds. Remove from heat.

Heat remaining oil in skillet over medium heat. Repeat steps using the remaining scallions, batter, cheese and egg. Remove from heat and serve warm.

If desired, mix soy sauce, rice vinegar, sugar, sesame seeds and red chili flakes to create dipping sauce.