Serves

4
Prep Time

25
Total Time

35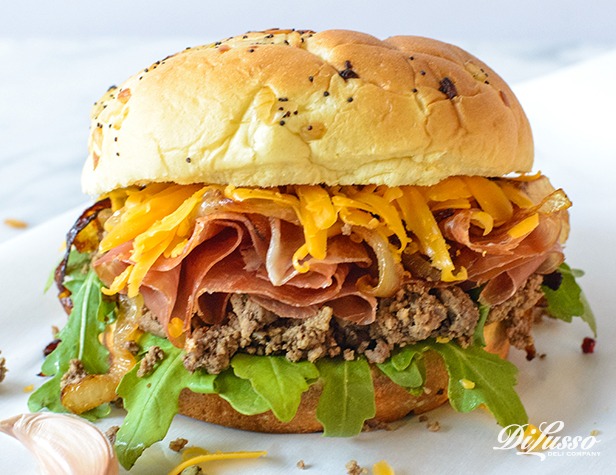 1 pound ground hamburger
½ cup cola
1 tablespoon garlic
1 teaspoon salt
1 teaspoon pepper
1 tablespoon olive oil
1 tablespoon butter
1 medium yellow onion, cut into thin slices
¼ teaspoon sugar (optional)
¼ pound DI LUSSO® Prosciutto sliced ultra-thin (at the deli counter) and cut in half lengthwise
4 onion hamburger buns
¼ pound DI LUSSO® Wisconsin Sharp Cheddar Cheese, sliced ¼ inch thick (at the deli counter) and shredded
1 cup arugula
Directions
Preheat broiler.

Brown hamburger over medium heat with cola, garlic, salt and pepper.

Meanwhile, coat bottom of skillet with olive oil and butter. Heat pan on medium until oil and butter are simmering. Add onion slices and stir to coat. Add sugar, if desired. Sauté onions until golden brown and nearly caramelized, about 20 minutes. Stir every 5 minutes.

Add prosciutto to the skillet and cook for about 5 minutes, or until prosciutto is crispy. Remove from heat.

Evenly distribute browned hamburger, caramelized onions and crispy prosciutto among the bottom hamburger buns. Sprinkle with cheese, setting about ¼ cup aside. Top with remaining top buns.

Sprinkle remaining ½ cup cheese on top of the top buns. Broil for 7-10 minutes, or until cheese has melted. Remove from broiler.

Right before serving, evenly distribute arugula among burgers.