Serves

12
Prep Time

10
Total Time

15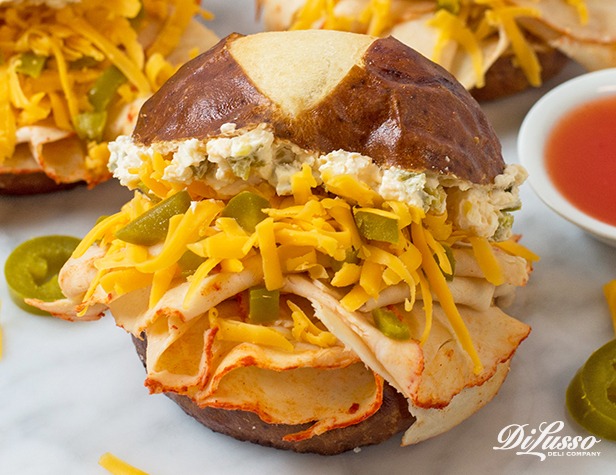 12 pretzel slider buns
½ pound DI LUSSO® Smoked Buffalo Style Chicken Breast, sliced at a medium thickness (at the deli counter)
1 (8 ounce) container cream cheese, softened
2 jalapeños, deseeded and minced
2 tablespoons buffalo sauce
¼ cup panko breadcrumbs
¼ pound DI LUSSO® Wisconsin Sharp Cheddar Cheese, sliced ½ inch thick (at the deli counter) and shredded
Directions
Arrange bottom slider buns on a baking sheet. Evenly distribute chicken among buns.

Mix cream cheese, jalapeños, buffalo sauce, breadcrumbs and cheddar cheese until smooth. Evenly distribute cream cheese mixture among buns. Top with more cheddar cheese and jalapeños, if desired. Place top buns on sliders.

If desired, broil for about 5 minutes, or until cream cheese mixture has started to melt and buns are crisp to the touch.