Serves

8
Prep Time

15
Total Time

40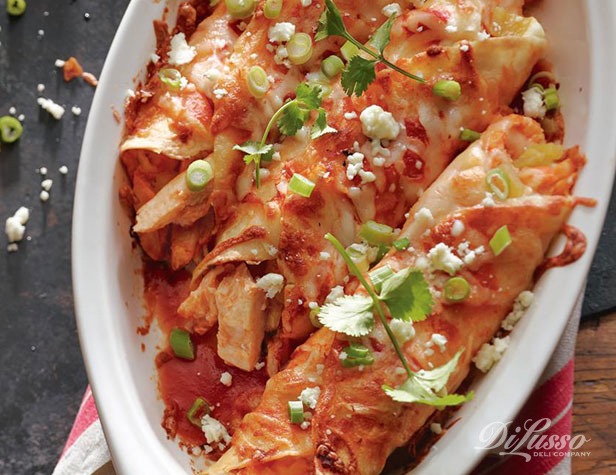 Enchiladas
1 pound DI LUSSO® Smoked Buffalo Style Chicken, chopped
1 tablespoon bottled Buffalo-style hot sauce, or more to taste
1 teaspoon chili powder
1/2 teaspoon ground cumin
1 cup sour cream, divided
1 (10-ounce) can enchilada sauce or 1 cup picante salsa
8 (8-inch) flour tortillas
1/2 pound DI LUSSO® Mozzarella Cheese, shredded
Topping
Cilantro, chopped
Green onions, chopped
1/4 cup Blue Cheese, crumbled
Directions
Heat oven to 375°F.

In large skillet combine chicken, hot sauce, chili powder and cumin. Cook over medium-high heat until mixture is heated through. Remove from heat; stir in 1/2 cup sour cream.

Spread 1 tablespoon enchilada sauce on each tortilla. Place 1/2 cup chicken mixture in center of tortilla. Sprinkle with 1 tablespoon cheese. Roll up tortilla. Place seam-side-down in greased 13 x 9-inch baking dish. Repeat with remaining tortillas. Pour remaining enchilada sauce over enchiladas. Cover with foil.

Bake 15 minutes or until heated through. Uncover; sprinkle with remaining cheese. Continue baking, uncovered, 3 to 5 minutes or until cheese is melted. Top each enchilada with dollop of remaining sour cream; sprinkle with cilantro, green onions and blue cheese.