Serves

8
Prep Time

10
Total Time

30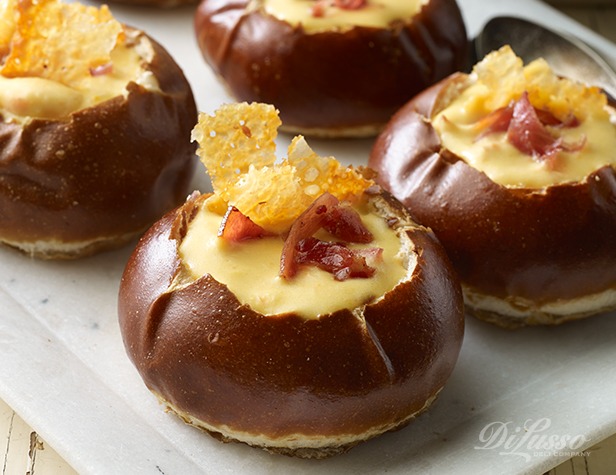 4 tablespoons unsalted butter
1 carrot, finely chopped
1 teaspoon
1 large white onion, chopped
1/4 cup all-purpose flour
2 cups milk
1 cup half-and-half cream
1 cup Belgian style beer (or amber beer)
1 tablespoon DI LUSSO™ Dijon Mustard
1/2 lb. DI LUSSO® sharp Cheddar cheese slices, cut into pieces
1/2 lb. DI LUSSO® smoked Gouda cheese, cut into pieces
Kosher salt and white pepper, to taste
1/2 teaspoon Worchestershire sauce
8 soft pretzel mini buns
Deli cheese crisps for garnish
Directions
Melt butter in large pot over medium heat. Add carrot, onion and garlic powder, sauté 8 to 10 minutes. Add flour and stir well. Cook, stirring frequently, 3 minutes or until flour turns golden brown. Combine milk and cream. Slowly pour into flour mixture. Whisk constantly until blended. Turn heat to medium and add beer, and Dijon mustard. Bring to a boil, whisking frequently until creamy. Simmer on low heat 10 minutes or until thick. Remove from heat and slowly stir in cheese, a handful at a time. Heat until melted. Add salt and pepper to taste.

Cut tops off soft mini pretzel buns. Scoop out inside of buns, reserving the tops for dipping into soup.

Ladle Beer Cheese soup into pretzel buns. Top with Deli Cheese crisps and serve.