Serves

4
Prep Time
Total Time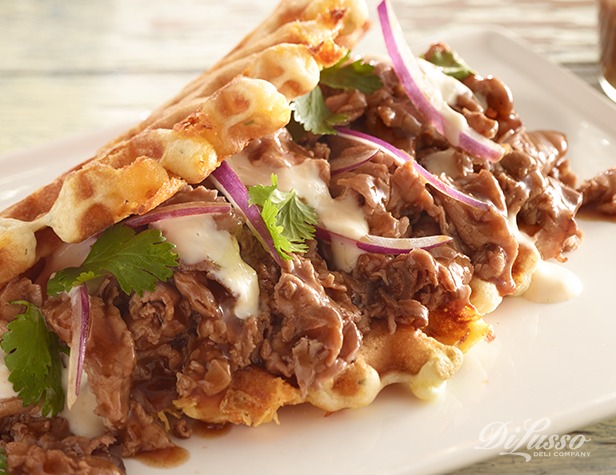 2 cups prepared pancake batter
1/2 cup shredded DI LUSSO® cheddar cheese
1 tablespoon chopped chives
2 cups beef broth
1 tablespoon balsamic vinegar
1 tablespoon cornstartch
1 pound DI LUSSO® Roast Beef, thinly sliced
1/2 cup DI LUSSO™ prepared horseradish sauce
1/3 cup thinly sliced red onion
1/4 cup cilantro leaves, washed and patted dry
Directions
Heat waffle iron. Combine pancake batter, DI LUSSO® Cheddar cheese and chopped chives in medium bowl. Spray hot waffle iron with non-stick spray. Pour 1/2 cup batter into the center of hot waffle iron. Close lid and cook 3 minutes or until waffle is golden brown. Open lid and carefully re- move waffle. Transfer waffle to a rack to cool. Repeat process with remaining pancake batter until 4 waffles are made and cooled.

Bring beef broth to a simmer over medium heat. In small bowl, combine balsamic vinegar and cornstarch. Whisk into hot beef broth. Cook 2 minutes or until thickened. Add DI LUSSO® Roast Beef to liquid and simmer on low 5 minutes or until hot.

To serve, place each waffle on large plate. Using a pair of tongs, distribute beef evenly over waffles. Top with horseradish sauce, onions and cilantro. Fold over to make sandwich and enjoy.